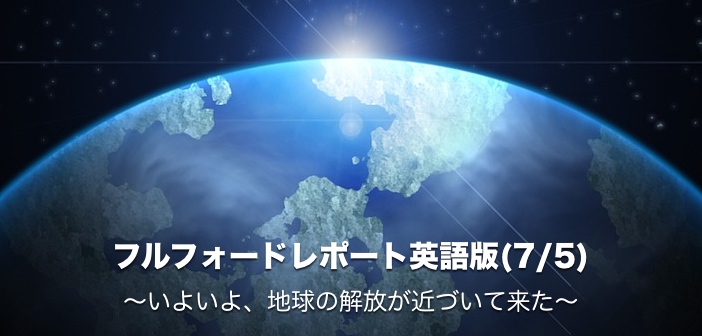 This report makes us feel that liberation of Earth is coming soon. In the last paragraph, Mr. Fulford says, "we will have some good news to report next week if negotiations with the Rothschild representatives go well", while he also reports that there are many people who do not want negotiations to go well because they are eager to end the lives of the RKM (Rothchilds/Bauers). The report says that since they think it is "high time to end the evil bloodlines", they would rather want negotiations not to go well.
Such message from "a senior Pentagon official" is a violent threat against Khazarian Mafia. Unless they unconditionally surrender to deities, deities will permit them to be executed. It can be said that the time has come.
Shanti-phula has indicated some parts of the following text in black boldface type or in red letters.
Excerpt from a Japanese article: How Sad! – July 6, 2016 –
KHAZARIAN

MAFEIA

DEFEAT

CERTAIN

AS REBELLION

SPREADS

IN

THE

EU

THE

US

AND

ELSEWHERE
The end of Khazarian mafia tyranny on the planet earth is getting very close indeed.
The Rothschilds and other

top Khazarian Mafiosi families

like the Borgia, the Medici, the Del Banco (Warburg) the Rockefellers (including the Clintons) the Bushes (Pecce)

have been given until July 10th

to reach a peace agreement with the people of the planet.

After that a bounty of $100 million each, payable in gold, will be handed over to anybody who can arrest, and if they resist arrest, kill, members of these genocidal families

.
As this newsletter was about to go online, we were contacted by one faction of the Rothschilds and a meeting with a White Dragon Society representative is now being arranged for this week.
Here is a message sent to them by a senior Pentagon official:
"I have been told from multiple sources that

there is a multitude of people

, (men and women)

who are waiting for the RKM (Rothchilds/Bauers) to not cooperate, these people are eager to end the lives of the RKM criminals

at every level. You may want to let the representative know, that this is for real and they cannot run or hide, their time is up. It is time to fold or

they will all die, including their families, to the furthest distant cousins; effectively ending the evil bloodlines who have bedeviled mankind for so long.

Again good luck with the negotiations. If they renege there will be consequences, major ones. That being said, have a great day."
In the past week, the Chinese government
has also contacted

the leaders of other Asian countries as well as the heads of the G20 group of nations

to inform them that they expect a deal to be reached between the White Dragon Society and the Rothschild family group.

The Chinese are too polite to make threats but this is a statement issued by the Chinese Freemasons:
"We will cooperate with any religion, any society, any faction, any political party or any country that agrees with the principles of co-existence and co-prosperity and world peace. However, we will cut off relations with anyone who fails to agree on the goal of world peace."
Pentagon sources are saying that

German Chancellor Angela Merkel

(a member of the Saxe Gotha Rothschild family)

already reached a deal with the Chinese when she visited China on June 13th.

According to that deal

Merkel

promised to
resign after Greece exits the EU
and, i

n exchange, the Chinese agreed to rescue Deutschebank.
The other EU country where a crisis is quickly coming to a head is Italy.
This degenerated into a public spat
that is likely to end up with Italy reverting to the Lira and Renzi resigning

, CIA sources in Europe say.
Then of course

President Francois Hollande will also be forced to resign as when Italy leaves

,

France will also be forced

by financial reality

to leave the Euro and revert to Francs.
In the United States as well, the Khazarian mafia is in deep trouble.
The widespread uproar over Hillary and Bill Clinton's activities is the clearest sign of this.
These career officials have long made it known that if Hillary was anybody else, she would have gone to jail a long time ago.
However,

neither Hillary nor any other members of her mafia are going to be allowed to run the US again

.
One source says "Brexit inspires Texodus and Califexit" and then other states will also bail out.

There will also be "Amexit from Nato, the UN and globalist free trade agreements like Nafta, TPP and TTIP,"

the Pentagon source predicts.
There has also been a complete turnaround in the Middle East.
Now

Turkey has suddenly made a 180 degree turn and is now re-establishing friendly relations with Russia, Israel and soon even Egypt.

It looks like peace is finally about to come to that long tormented region.
On that front, hopefully we will have some good news to report next week if negotiations with the Rothschild representatives go well. If not, the battle will continue until the world's people are victorious.

Planetary liberation is coming soon.