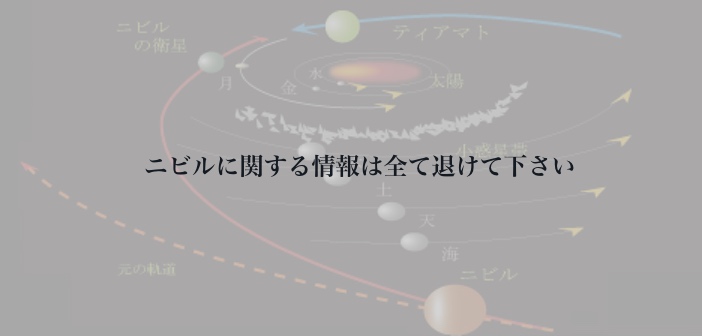 Since the information included in this article is nonsense, ignore it. Information on Nibiru is based on false information from Zacharia Sitchin, so reject all of it, as Cobra also pointed out. On this blog, Nibiru-related information has been hardly picked up. However, to avoid confusion, I informed at one time that Nibiru had already been destroyed.
Mr. Alex Collier has been provided false information on Nibiru and informed people of fairly wrong information. According to the article, aliens who have got in contact with him seem to make a course correction. I think that they need an excuse because their plan has been foiled by approaching Nibiru. We should hear in some time the information through Mr. Alex Collier that "Nibiru has been destroyed."
However, as mentioned above, destruction of Nibiru is not a recent event. It appears that they intentionally sent false information through this message to Mr. Alex Collier. A fool called "Cosmic Awareness" fell to Darkness immediately after giving a message. I warn them that unless they stop intentionally providing such false information again, they would be destroyed before long.
Anyway, it would not be allowed to disseminate such false information after the day when light is showered on April 9 (April 10 JST). It's because everybody should observe the law of the universe.
New Intel!!
Explosion In Heavens Recorded By Earth Scientists!!! The Event Has Been Cancelled Or Postponed? Earth Collective Gets Closer To Tipping Point
Reporting on Nibiru is a very tricky endeavour because we are jumping timelines and probablities all the time. Now I admit,

this latest intel will stretch the brain matter a bit

, but then again, the truth is not always comfortable for the brain… so I am as anxious as anyone to figure out what is going on… and that is why I am providing this latest intel… keep in mind and heart, that often the truth is hard to believe… but your heart will know.
1.

Alex Collier reported a weeks ago

, that Nibiru had been stopped…that the Nibiru system is steerable by its inhabitants.

Alex is an Andromedan contactee

who has recently been informed that March, April timeline for Nibiru, and since then, has reported that Nibiru had been stopped.
2.

Cosmic Awareness through Wil Berlinghof says

there was an explosion in the heavens, that was related to Nibiru being stopped in its tracks!
Nibiru is entering into the solar system and that there are those who have observed this who have taken pictures, long distance pictures.
Those contained in Nibiru
that have historically been known as

the Anunnaki

,

the Anunnaki are ones who are a combination of

races but in particular

the Orion race and the Reptilian race.

and that the Anunnaki are a combined race now.
That these ones have been moving towards planet Earth steadily, but that

an event occurred just before 15th of March

, the Ides of March, that has altered things considerably. That event was that

Nibiru itself has been stopped in its tracks

,
Their initial plans and the plans of the powers-that-were was to bring in the false Messiah
which would be followed up by the arrival of the home planet Nibiru

that would then convince humanity to become followers of the true Messiah and the true chosen people. That

this has now been halted

, that there are those forces of Spirit, those that

some call

the benevolent ones or the benevolents

that

have halted Nibiru in its tracks.
Many astronomers, both professional astronomers and amateur astronomers, are able to see this planet now and have taken film of it, taken pictures of it.

Alex Collier has suggested and this Awareness confirms that which he has spoken.
3. Around the time this intel was channeled from Cosmic Awareness,

earth scientists DID RECORD AN EXPLOSION OF A STAR IN THE HEAVENS BUT THEY ONLY GAVE US A CARTOON SIMULATION TO LOOK AT

… IF NOTHING FISHY WAS HAPPENING, WHY GIVE US A CARTOON!
6.

Nibiru researchers will note that second sun sightings have for some strange reason…. STOPPED

, or trickled down considerably.
Numanity has opted for a more gentle cleansing… however

the cleansing will still take place and will be complete… but not as extreme as was the timeline

… timelines still change even now, so even this day and moment, we still have the ability to attract or repel Nibiru. Please do not use this timeline of a gentler shifting, to go back to sleep hehe…

THERE IS A TIPPING POINT OF THIS REALITY, AND WE ARE EVER CLOSER TO IT

.