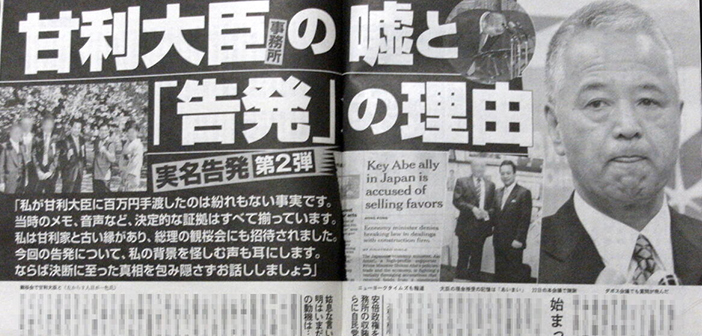 Cleanup of evil on universe level is moving to the next phase and finally is reaching the stage of eradicating small fries such as politicians and media people on the earth. In this sense, the scoop has occurred perfectly on time.
I have told you that those who won't pull out of wrong doing will go spiritually bankrupt someday. You can see a lot of signs among various sectors of people including politicians and entertainers. It is the same with ordinary people. You see a rapid increase of the number of dementia patients. The preliminary step toward spiritual bankruptcy is depression which suddenly develops for no reasons.
High vibrational light emitted from the Galactic Central Sun polarizes humanity. Those who can receive light will rapidly achieve the stage of higher consciousness and those who can't do so will go spiritually bankrupt. Only those who have made up their mind to live a righteous life in accordance with Yama (Universal morality) and Niyama (Personal observances) can receive light.
English translation of an excerpt from a Japanese article: Kaleidoscope - January 30, 2016 –
Inescapable! Throw Akira Amari Into Jail!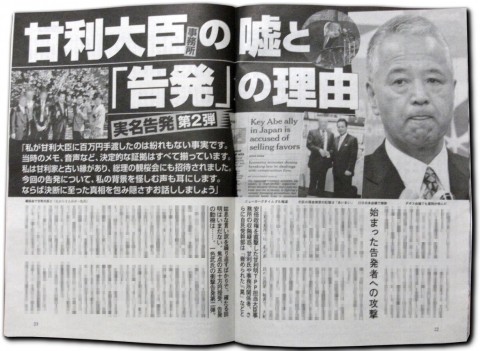 Shukan Bunshun "Second Scoop on Akira Amari"
Akira Amari
has resigned after admitting that

he received one million yen

divisionally twice (which is identified as of this moment) directly from the indicter under his real name

and put the money in the inner pocket of his business suit

. This is just the tip of the iceberg. He still tell a lie at a press conference on his resignation.
Serious allegation against key player in TPP - Scoop gives seismic effect on political world
"I gave 12 million yen of bribery to the office of Minister Akira Amari"
He received the cash at the Minister Office in exchange for the awarding of contracts for public works projects. Photo taken on the spot is available. Voice Released.
*"Cash directly sent to Minister Amari"
*"Personally acquainted with father of Mr. Amari"
*"Make me No. 1 bar proprietress in Ginza"
*"You promised to save my face"
*"Dangling the name of minister before me"
Akira Amari undoubtedly embezzled an enormous bribery more than once in exchange for the awarding of contracts for public works projects with the whole office.
Although he decided to resign in fear of it, a strange cheering group supporting him has appeared, saying "He is a graceful loser" or "He's exactly a samurai."
All of them are ignorant LDP supporters on the Internet (Group B).
The group is led by the Prime Minister Office, whose head is Chief Cabinet Secretary Yoshihide Suga.
Yoshihide Suga is such an utter villain that he has committed crime against ordinary people, which is worthy of arrest, so many times. He is not a politician but a rogue.
I'd like to pick up several points described in the second scoop, which I'm concerned about:
1.
Immediately after the release of the first scoop, negative campaign against Mr. Isshiki, who brought an accusation against Amari under his real name, started.
Everything is "falsehood."
The media in sympathy with Abe
have tried to have their reporters look for Mr. Isshiki's name cards he distributed while engaging in political campaigns and
to manipulate to demonize him in vain.
2.
Why did Mr. Isshiki record a conversation or take pictures every time he met Akira Amari or people of his office?.
The total amount of money including entertainment expenses that Mr. Isshiki gave to Akira Amaki or those in his office, is not 12 million yen but tens of millions yen.
According to him,
Mr. Isshiki realized on one occasion that they "sponged on him for money" and then decided to gather evidence just in case.
"Just in case" naturally includes the possibility that he might be "killed." It is no wonder that he did so since he knew how many people associated with this political party had died under suspicious circumstances.
3.
Habituation of bribery
Akira Amari said in the press interview
:
"
I received 500,000 yen twice but ordered the staff of the office to properly handle it.
"
"
If we succeed in the UR case, I'm going to run a night club in Ginza in return
,"
said Ryosuke Suzuki, the incumbent policy secretary.
They say that
Mr. Suzuki was wooed by a hostess in exclusive club "B" to "make her No. 1 bar proprietress in Ginza."
Habituation of doing evil by LDP Cabinet!? Idiot Party Vice-President, who defends Amari, saying "He was caught in trap," Digs His Own Grave
LDP vice-president Masahiko Takamura defended criminal Akira Amari by saying "I felt that he was caught in trap." However, reading the article of Bungei Shunjuu in detail, it turns out that Mr. Isshiki decided to gather evidence to defend himself from danger while negotiating with Amari.
Let's examine Masahiko Takamura! I'm sure that scandals will come out one after another.
In a word,
the Abe Cabinets ministers are all criminals. We want the investigative team from the Tokyo District Public Prosecutors Office
with support of the public
to run wild as much as they like.