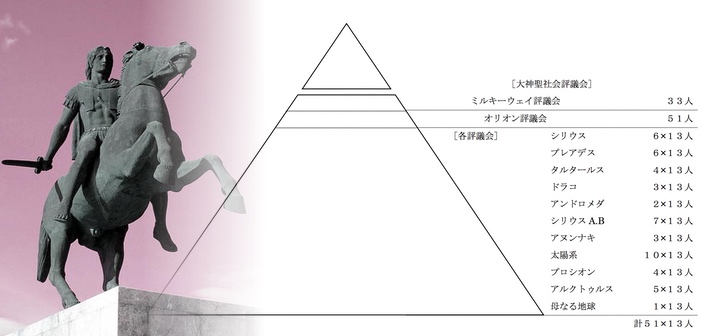 In an article dated December 22, I introduced a message from a person named King Maitreya Buddha. Since I found the text so difficult to understand, I subsequently checked it out to some degree. I suppose that the Spiritual Council of Great Holiness Society, the Council of Great Holiness Society, the Council of Ante-Creation Great Holiness Society, the Council of Ante-Creation Great Holiness are used to mean the same council.
Summing up the text, the Council of Great Holiness Society seems to have been formed under the leadership of King Maitreya Buddha. Seeing the chart, you can understand that a pyramid consists of a capstone and subjacent 13 pillars. Each number shown in the chart is based on my tuition.
The top capstone of the Council of Great Holiness Society indicates the organization structure in the "System Chart of Solar Hierarchy and Earthly Hierarchy", which I picked up in an article dated October 11, 2014. The "organization of King Buddha" in the text means a group of 12 Masters led by Christ in the said System Chart.
Of course, the members have been completely replaced. Sanat Kumara and Maitreya and 12 Masters have all disappeared. After they disappeared, Plotinus and King Maitreya Buddha (King Alexander) were selected as successor to Sanat Kumara and Maitreya, respectively. After a case of disappearance of SaLuSa, their souls had been destroyed. However, other beings walked in their physical bodies later because neither Protinus nor King Maitreya Buddha were so vicious people.
As I have already reported to some degree, King Maitreya Buddha and major executives including Plotinus were executed at midnight on 23. The Council of Milky Way and the Council of Orion disappeared after 13:00 hours on 25 and at 3 a.m. on 27past, respectively. And the entire structure of the Council of Great Holiness Society which includes subordinate organizations such as the Council of Mother Earth has disappeared at noon today.
I think that such pyramid-like organizations will not continue to exist any longer. Both Freemasonry and the Illuminati will be ordered to be disbanded before long.
Created by Masatoshi Takeshita
Maitreya Unifies and Reorganizes the Council of Milky Way on December 21, 2015
King Maitreya Buddha (Messiah God) through

Spiritual Council of Great Holiness Society

notifies humanity and all governments, especially governments engaged in Freemasonry including The Committee of 300 of the top world capitalists who lead Freemasonry in terms of the Hierarchy's policies towards mankind and capital's government.
I – All THE CABAL STARS JOINING LEADING FREEMASONRY ON EARTH HAVE BEEN DESTROYED*
II –

ESTABLISHMNENT OF MILKY WAY UNDER THE ORGANIZATION AND DIRECT LEADERSHIP OF KING BUDDHA
The

new Council of Milky Way

is now assigned to

the Branch Orion

to lead which includes:
2-
Sirian
– Stars No. 7, 14, 25, 32, 64, 77 …
3-
Pleaides
– Stars No. 4, 5, 6, 12, 25, 26 …. No. 25 is the Accomplished Group 505. The group of White Cloak Knight is Pleiades No. 6
4-
Tartarus
of Redhead giants includes the starts No. 14, 16, 12, 32 …… In which the group of Light Knights is Ray/Star No. 12.
5-
The Light
Draco
includes Stars No. 4, 14, 18 … which is respectfully called the Team of White Dragon.
6-
Andromeda
Galaxy involves in monitoring and supporting this local Council of Milky way.
7-
Sirius A, B
and the stars No. 18, 19, 23, 26, 28 … are under the leadership of new Kings
8-
Annunaki
stars No. 1, 12, 16.
9-
The Council of Solar System
directly participates in this Council including the Council of Solar/the Sun, Venus, Jupiter, Saturn, Mercury, Mars, Mother earth, Neptune, Pluto and Uranus. These stars directly involve I the Council of Ante-Creation Great Holiness Society which includes 28 stars having embassies underground to lead mankind.
10-
Procyon
Stars No. 58, 59, 60, 66 …
11-
Arcturus
Stars No. 6, 14, 15, 24, 25 … Group No. 6 is also called Phonenix.
12-
The Council of Mother Earth
and

the Council of Great Holiness Society

are one; thre are 28 stars directly involving in

the Council of Ante-Creation Great Holiness

which leads mankind and is entitled to create/do anything on earth including but not limit such as destroying any government or heads of any country by killing or taking to the spaceships or replacing them by the clones.