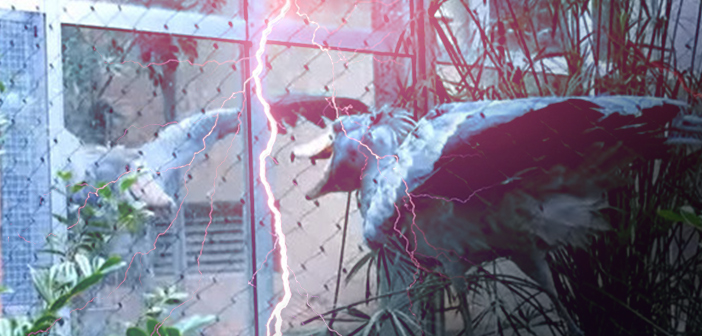 At first I thought there might be a mirror, but it was wrong. Both shoebills seemed to be in serious mode until there was glass between the two. However, it appears that after the glass was broken, they got into peaceful mode of "discussion is important."
Although they look scary, they reportedly are so polite and respectful to a keeper that they greet him politely without fail because they are presumably from a distinguished royal family.
English translation of a Japanese article: Karapaia – November 14, 2015 –
Serious Confrontation Between Two Shoebills Through Glass

The Glass Broken After Intense Glaring At Each Other (Ueno Zoo)
Shoebill broke glass with beak after faceoff!
The Shoebill is known for its "stillness like a mountain." Reportedly, brisk movement of a shoebill was witnessed.
This scene was filmed by "Tokyo Shoebill Club" which makes daily observations of shoebills in Japan. According to the club, it was a lethal stroke after a faceoff through the glass.
They say that a senior shoebill is seen snuggle up to a keeper in Ueno Zoo. The shoebill looks so happy when its head is stroked by the keeper. It is so cute.
Shoebill snuggling up to a keeper