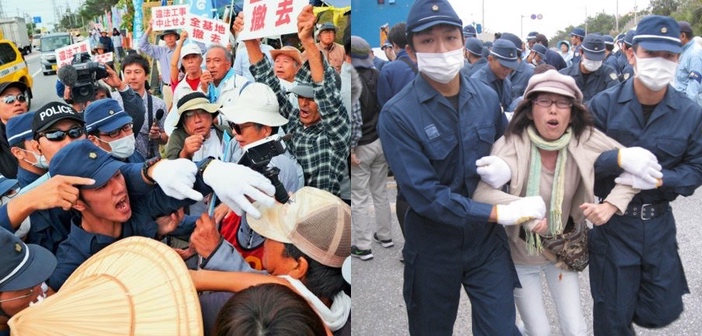 We people on the mainland of Japan are also involved in the Okinawa issue in that Japan will return to the prewar society unless we can protect democracy. Rather Okinawa is the frontline of the fight to protect our democracy. I do ask you to focus consciousness on Okinawa and pour light on it.
(Note) *SEALs – Student Emergency Action for Liberal Democracy
Riot police from Metropolitan Police Department dispatched to Henoko
Dispatch of riot policemen to Henoko provokes backlash of local people, leading to scuffle
About 130 riot policemen from Tokyo's Metropolitan Police Department in front of Camp Shwab
English translation of a Japanese newspaper: Nikkan Gendai – November 6, 2015 –
Crooked Justice of Riot Police from the Metropolitan Police Department who stay at resort hotel and bully the people of Okinawa Prefecture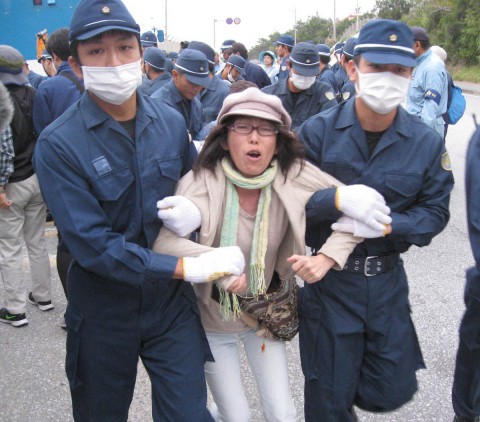 Are you all right with it, Riot Squad? (C) Nikkan Gendai
It looks like "Heisei version of Sunagawa Struggle."
We saw "

the local people versus police" over the relocation

of U.S. Futenma base in Okinawa

to the coastal area of Henoko

in Nago City.

Until a week ago they had squared off against each other. However, the situation has completely changed

since the Okinawa Defense Bureau resorted a radical measure to "start construction" late last month

.

The situation is getting more and more abnormal in which intensified conflict has caused more local people to get hurt.

It is a

"riot squad from the Metropolitan Police Department"

dispatched to Henoko in particular that

antagonize the local people

.
In front of U.S. Marine Corps's Camp Schwab we hear angry voice: "Go back to Tokyo!" Riot police from Metropolitan Police Department who has been dispatched to the scene since November 4 stand up against the people of Okinawa Prefecture who have continued to stage a sit-in. It is quite unusual for the police other than the Okinawa Prefectural Police to directly come in conflict with the residents in front of the gate.
"Since vehicles of the dispatched riot police have Tama plate numbers, it is probably the Fourth Riot Squad of the Metropolitan Police Dearptment.

The unit was called the "heard-hearted fourth squad" because they contained the local resident opposing the construction of Tachikawa airport of U.S. military forces in Japan in the 1950s

. Such an elite unit has skirmished with the elders or women who have a far smaller build. Ambulances are called so often. (Staff of local non-governmental organization joining a protest activity)
According to the Metropolitan Police Department, the riot police are dispatched in response to a request for aid from the Okinawa Prefectural Police. However,

the residents who are protesting are not gangsters or terrorists.

It is not necessary for well-reputed riot squad of the Metropolitan Police Department to obtrude themselves.
Furthermore, the place where the riot police makes the local residents get angry.
"

They stay at an exclusive resort hotel in Nago, which costs approximately 50,000 yen per room per night.

It is not so costly now due to off-season rates. However, the residents get so angry, saying "they come to oppress us as if they were enjoying vacation in a holiday resort." (A resident of Nobeko)
We confirmed with the hotel of whether they stay or not. The hotel admitted that they stay there but they replied to our question about the number and the scheduled length of stay by saying "we cannot answer it because of information on individuals."
It is said that the number of dispatched riot policemen is between 100 and 200. It means that several million yen per night is spent.
This is exactly wasting of tax money. Mr. Toru Gushiken, Okinawa prefectural assembly member, says:
"The riot policemen are just like trained robots. They even seem to enjoy rioting about.
However,

we should not see them as an enemy. They just move on order from the crazy prime minister and defense minister. I don't think that this approach will last that long

."
Are you fighting for the dictator who loves war or for the people who wish for ordinary happy life?

You riot policemen had better remember what motivated you to become policemen.