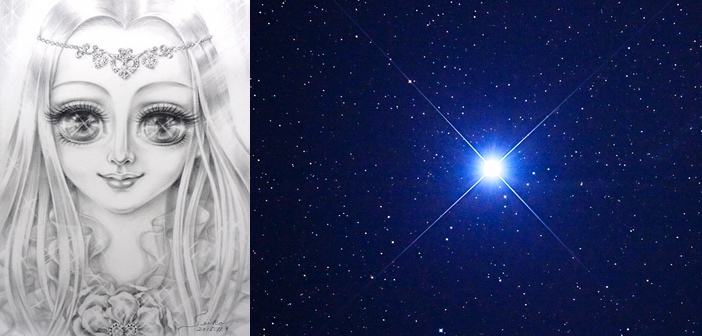 I got an illustration from Mrs. Seiko Nakanishi. After seeing the illustration, I asked a favor of her: "This is probably a goddess, Supreme Deity of Outer Space 2163-dimension (12th Block). I think that the goddess has descended on the Sirius in the Sirius System. I think she is probably eight years old. Would you ask about her name and age and also request her to send a message to earthlings?"
I'd like to introduce her illustration and message.
<Communicator: Seiko Nakanishi>
<Communication date: November 9, 2015>
Name: Uruwashiki-hikarino-himemiko ( 8 years of age) < Spirit Body>
Goddess, Supreme Deity of Outer space 2163-dimension (12th Block)
"Hello, people of the earth,
I do feel admiration for your assiduous and tireless work in the midst of increasing confusion.
The world has so many problems and it is just like the calm before the storm.
We deities in the universe, our friends and all life stand ready everywhere. We join together with a single purpose to help realize peace and safety on the earth in the hope that your uneasiness, fear or suffering will be removed as early as possible.
Whatever situation you may face, we hope that you will get rid of hopelessness or despair by all means.
This is because negative vibrations weaken the function of positive vibrations and prolong suffering.
When you get uneasy, please remember beautiful landscapes, beautiful flowers and insects or birdsong, and then mumble Mantra of Love in your heart.
You will regain soft and warm feelings and will be able to gain new hope, courage and perseverance to live.
Please endure birth pangs.
We are always there for you.
Please call my name when you have a tough time.
I am always with my beloved earth. Uruwashiki-hikarino-himemiko"
<I asked how she liked the illustration.>
"Surprisingly, it looks exactly like me.
I cannot believe that you drew me to the life without seeing me.
Every part is exactly like me.
Can I have this illustration (postcard)?
I'll copy it and decorate my house with it.
The above is a message from the goddess.
As expected, parting from them made me feel painful. I spent one or two days crying.
Surprisingly, "Rain," who may be a rainbow fairy or a garden fairy, visited me on November 8.
I gave her this name because she wore a rainbow-colored shirt on the rainy day.