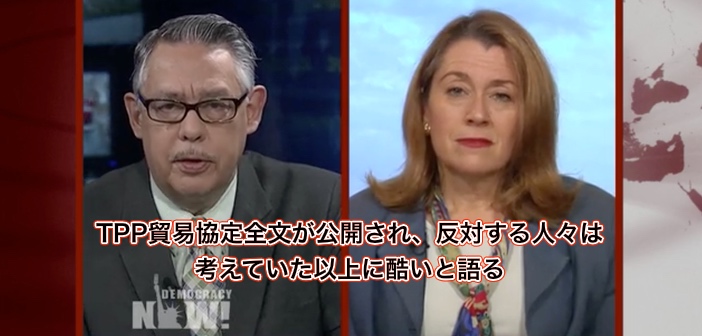 The TPP could not be agreed if correct information about it is reported. However, it is an agreement in favor of the One Percent who control the world. Since they control the media, the part against the people's interests is never been reported.

At any rate, the agreement has to be finally approved by the U.S. Congress and the Japan's Diet. However, I think that few Congress or Diet members have a strong will to refuse the TPP under existing conditions.
The TPP is a big step toward realizing the New World Order. Regrettably, democracy that does not function properly has no power to stop it. It is not until you become salves that you can understand what the TPP is all about. It would be too late. We are facing an ultimate choice between the two: we will establish a trade agreement which enslaves humans or we will fall into the most painful hell together with the people who have not prepared against financial collapse. No matter whenever it may be, financial collapse will inevitably occur.
Full Text of TPP Trade Deal Revealed – and Critics Say It's Even Worse Than They Thought
The details are out on the the Trans-Pacific Partnership
, and critics say

the trade deal is worse than they feared.

Activists around the world have opposed the

TPP

, warning it will benefit corporations at the expense of health, the environment, free speech and labor rights.
JUAN
GONZÁLEZ:
One of the biggest and most secretive trade deals in history has finally been revealed in full—and critics say it's even worse than they thought. On Thursday,

the complete text of the controversial Trans-Pacific Partnership was released

after years of closely guarded talks. The

TPP

was agreed to last month between the United States and 11 other Pacific Rim nations. The group represents 40 percent of the world's economy.

It will set common standards in areas including employment, food safety, the Internet, corporate governance and intellectual property. It also establishes new tribunals under which corporations can sue governments for laws that affect their profits. The legal mechanism is called

the investor-state dispute settlement, or

ISDS

. Activists around the world have opposed the

TPP

, warning

it will benefit corporations at the expense of public health, the environment, free speech and labor rights.
AMY
GOODMAN
:
With the fine print now disclosed, the TPP's opponents say their worst fears have been confirmed. …. it intends to ratify the

TPP

, starting a 90-day review period before President Obama can seek final approval. The Senate has granted Obama the authority to fast-track the

TPP

and present it to Congress for a yes-or-no vote with no amendments allowed. Lawmakers will face heavy lobbying from wealthy

TPP

backers, but grassroots opposition could play a role, too.
For more, we're joined by Lori Wallach, director of Public Citizen's Global Trade Watch, leading

TPP

critic.
LORI
WALLACH
:
Well,

it was worse than we expected.
One,

in the area of access to affordable medicines, the TPP's rules on patents,

actually both for developing countries but also for us, would roll back that initial reform and

make medicine more expensive in pretty dramatic ways

.
Number two,

the investor-state dispute resolution system

is actually expanded out, in ways we should discuss, so that more kinds of laws can be attacked, and many more companies

will be able to attack U.S. laws

.
And then the third thing that was kind of a shocker is there is an expansion of the kind of attacks you can have on food safety,

on imported food safety

, which is

really serious

, because Malaysia and Vietnam, two of the

TPP

countries, are amongst the major importers of seafood and shrimp—a lot of their stuff gets stopped now for being unsafe—but this agreement

would give them new rights

to basically attack our stopping their stuff for food safety purposes and

flood us with unsafe imports

.
LORI
WALLACH
:
Well, I think it's very telling that yesterday the agribusiness industry was the only major industry that was extremely enthusiastic when the text came out. Well, they're thinking of trying to jam our

GMO

foods into other countries. The

TPP

could mean poisonous food, that you can't label from what country it comes from, on your kids' plates. It could mean major public health issues.
JUAN
GONZÁLEZ:
Lori, I wanted to ask you—some groups came out against the agreement that you don't usually associate with trade deals, like Doctors Without Borders and Human Rights Watch. Could you talk about their concerns?
LORI
WALLACH
:
Yes. So,

Doctors Without Borders

, which basically, as everyone knows,

is a major humanitarian group, is extremely concerned about what would happen with medicine prices

. And this gets to the language I had mentioned, where I was shocked to see rollbacks of previous reforms that the Bush administration had made. So

Big Pharma got a lot of goodies in this agreement

. In a "free trade" agreement, we see

new monopoly protections for Big Pharma

. And so, Doctors Without Borders is basically

pointing out

that in a whole smorgasbord of policies, where Big Pharma was trying to use the

TPP

, the "good name of free trade," to put into place a bunch of new protections and

privileges to raise medicine prices, they got their way

. And the two biggest ones are—which is shocking rollbacks from the old U.S. trade standard, which was bad—is all the developing countries in

TPP

, including countries that are really poor, like Vietnam, ultimately have to have the same extreme patent standards, extreme exclusivities,

that will just price people out of medicines

. I mean, it will translate to people dying.
AMY
GOODMAN
:
That's what Doctors Without Borders said. This is U.S. Trade Representative Michael Froman on the impact of the

TPP

on research and access to life-saving drugs.
MICHAEL
FROMAN
:
On biologics, as you know, this is one of the most challenging issues in the negotiation. We have worked cooperatively with all of our

TPP

parties—partners to secure a strong and balanced outcome, that both incentivizes the development of these new life-saving drugs while ensuring access to these pioneering medicines and their availability. And this is the first trade agreement in history to ensure a minimum period of protection for biologics.
AMY
GOODMAN
:
That's the U.S. trade representative, Michael Froman. Lori Wallach, your comment on both clips?
LORI
WALLACH
:
….. I mean,

the bottom line is, most of the countries involved have no exclusivity for those kinds of cutting-edge drugs, which are a lot of the cutting-edge cancer cures—biologics

—and now they will have five years, at a minimum. The industry says they got eight years. There will be enormous pressure to have more monopolies. And just think about the theory of this:

a "free trade" agreement that stops competition. It stops the competition of generics that bring down prices

. That is actually what's in the text, whatever the U.S. officials are saying. We can read it now.
JUAN
GONZÁLEZ:
Well, Lori,

where do we go from here?

Obviously, there will soon be a 90-day period for Congress to vote on the fast-tracking of this bill.
LORI
WALLACH
:
….. So, ostensibly, by the first week of February, the

TPP

could be signed.
….. the most important thing for all of us to think about, is it only becomes reality if Congress approves it. Now, we are behind the eight ball ….

However, by five votes only did fast track pass

. That means ….. if we have five members in the House of Representatives who say, "Oh, no, that is not what I signed up for," that's the end of

TPP

. … we're going to have to talk to our members of Congress, and

we need to start now

. … Grab a couple of your friends and your family, go tell your members of Congress you need that commitment. We can stop this.