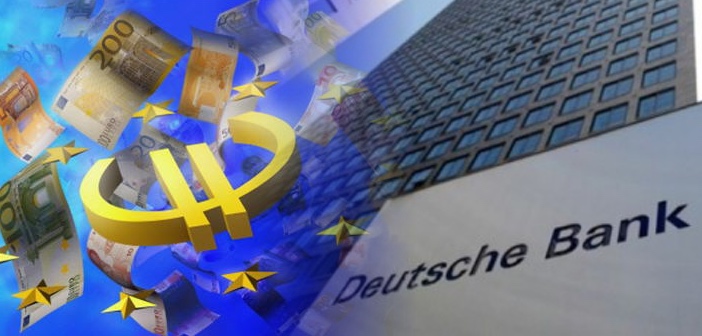 According to the article, Deutsche Bank will cut 35,000 jobs and scrap its dividend payment to investors, about which rumors abounded. Usually, this incident must cause a big fuss and the media should naturally secure sufficient time for broadcasting it and possible global economy. However, they will turn a blind eye to it as usual.
I don't know exactly when financial crisis will explode. However, such contradiction cannot last for all time.
Japan's economy cannot continue like this. I advise you to contemplate what you should do now while predicting the future condition of the economy in ten years.
Deutsche Bank To Conduct Mass Downsizing
Germany's biggest lender,
Deutsche Bank
, has announced that

it will cut 35,000 jobs

through redundancies

and the sale of businesses.
The Deutsche Bank says it plans to slash 9,000 full-time jobs and 6,000 contractor positions. It will also sell operations with 20,000 more workers and close local operations in 10 smaller countries.
By 2018, the cuts and disposals are to shrink the bank's workforce from around 103,000 to 77,000.
The announcement came as

the German lender reported a $6.6 billion quarterly net loss

.
On Wednesday,

the bank said it would scrap its dividend payment to investors for 2015 and 2016.

Earlier this month, Deutsche Bank said it was planning to split its investment bank into two divisions.
The strategy reboot, called Strategy 2020 by Deutsche Bank, is the latest move by the lender this year to turn around its fortunes. Shareholders have complained the bank is too complicated and not profitable enough.
English translation of an excerpt from a Japanese article: NEVADA Blog – October 30, 2015 –
Simmering Financial Crisis: First Non-payment of Dividends and Personnel Downsizing
Deutsche Bank
has sunk into exorbitant derivative hell

with a total of 35,000 jobs cut and non-payment of dividends

. The bank has experienced non-payment of dividends for the first time since its foundation in 1952.
Additionally,
the bank has made announcement of more than 5 billion yen of asset sales.

It has come to the surface

that the bank is rushing around by all mean to secure liquidity on hand.
Although true management crisis of Deutsche bank has not come to the surface, falling into non-payment of dividends and asset sales clearly show it.

The first financial meltdown exceeding the Lehman Brothers bankruptcy may be experienced by this Deutsche Bank.
Management crisis of Switzerland major resource companies is lurking and

Europe is just like holding a number of time bombs

. It is no wonder that

Britain and German Chancellor Merkel would think of managing to go out of hot water by currying favor with China

.
If financial meltdown which is rumored to take place in Europe exploded, Europe would be driven into a destructive situation.
They tried to camouflage the fact by monetary easing, but cannot hide it now. It appears that further monetary easing will be carried out. I wonder if it will produce any effect.
A day might come soon when the European Central Bank will become a fireball.