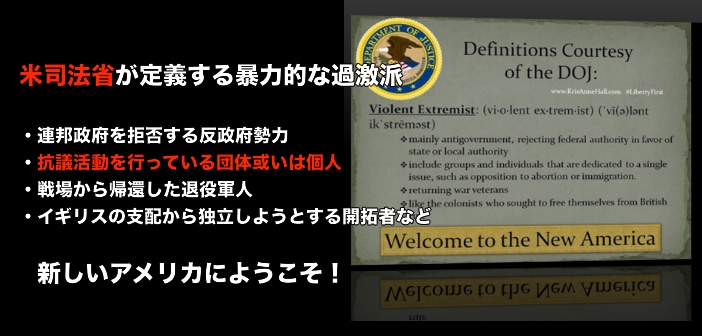 The U.S. Justice Department defines violent extremists as "groups or individuals that are dedicated to a single issue, such as opposition to abortion or immigration." In other words, those who are opposed to the government are terrorists. Japan will follow the same fate if we choose to do nothing.
The second article points out that people who accused the U.S. of its crimes are all persecuted. If people are brainwashed into believing that "patriotism means defense of the government no matter what", "opponents of the government are interpreted as lacking patriotism."
"It is simple to make people participate in war. All we have to do is to say: "We are attacked" or "You lack patriotism" to pacifists," said Nazi politician
Göring
. We see incidents happening exactly as stated by him
Now Japan is keeping in step with the U.S.
Definition Courtesy of the DOJ:
*mainly

antigovernment, rejecting federal authority

in favor of state or local authority
*include

groups or individuals that are dedicated to

a single issue, such as

opposition to

abortion or immigration
*like the colonists who sought to free themselves from British rule
Welcome to the New America
Washington Persecutes America's Greatest Patriots
John Kiriakou is an American patriot who informed us of
the criminal behavior of illegal and immoral
US "cloak and dagger" operations
that were bringing dishonor to our country. His reward was to be called a "traitor" by the idiot conservative Republicans and sentenced to prison by the corrupt US government.
Manning revealed US war crimes
and
after
years of
illegal pre-trial prison abuse
was sentenced to 35 years in prison
for keeping the vow to the US Constitution. Some of the idiot conservative Republicans thought the sentence was too light.
Tom Drake was ruined, and he kept his complaints about NSA illegality within the chain of command.
Julian Assange is confined by the US and UK governments
in violation of international law
to the Ecuadoran Embassy in London
for doing his job and
publishing leaked documents revealing
the mendacity, immorality, and
illegality of Washingtonn's
policies.
Edward Snowden is protected by Russia against Washington's retribution for revealing
that
Washington's illegal and unconstitutional spying
is universal and includes the personal communications of all of the leaders of Washington's own vassal states.
The American people accept the persecution of truth-tellers, because they
have been brainwashed
into believing that patriotism means defense of the government no matter what
. As truth is so unfavorable to Washington, Americans believe that it must not be revealed, and if revealed, covered up, and those who reveal truth must be punished.
A country with such a population as this is a police state, not a free country.
It is an irony of history that a government and a population that believes truth must be covered up
at all cost
parades around the world acting as if Washington is the history's agent for
"bringing freedom and democracy to the world."
Here is John Kiriakou:
http://otherwords.org/the-sad-fate-of-americas-whistleblowers/
Dr. Paul Craig Roberts
was Assistant Secretary of the Treasury for Economic Policy and associate editor of the Wall Street Journal. He was columnist for Business Week, Scripps Howard News Service, and Creators Syndicate. He has had many university appointments. His internet columns have attracted a worldwide following. Roberts' latest books are
The Failure of Laissez Faire Capitalism and Economic Dissolution of the West
and
How America Was Lost
.