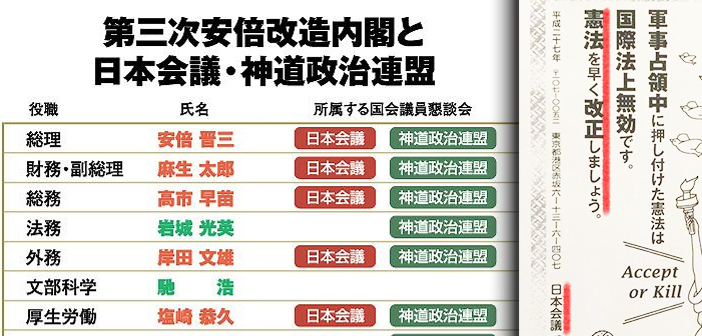 The following table shows that most of the cabinet members of the Abe administration who belong to the Nippon Kaigi or Shinto Association of Spiritual Leadership, both of which are controlled by the Association of Shinto Shrines. Seeing the following tweets, it is obvious that they contemplate revising the Constitution.
If such mean people had the Constitution revised as they like, it would become troubled. First of all, such people would never safeguard human rights. They must think that the public should serve to elite such as them. I think that they have the same eugenic thought that the Nazi had.
English translation of an excerpt from a Japanese article: Twitter – October 10, 2015 –
Bunchousan @komatsunotsuma
`iwakamiyasumi RT@mas_yamazaki The number of ministers affiliated to Nippon Kaigi have slightly decreased, but we are still in an abnormal situation.
I wonder

when the major media including the Asahi will provide readers or audience with this sort of information

.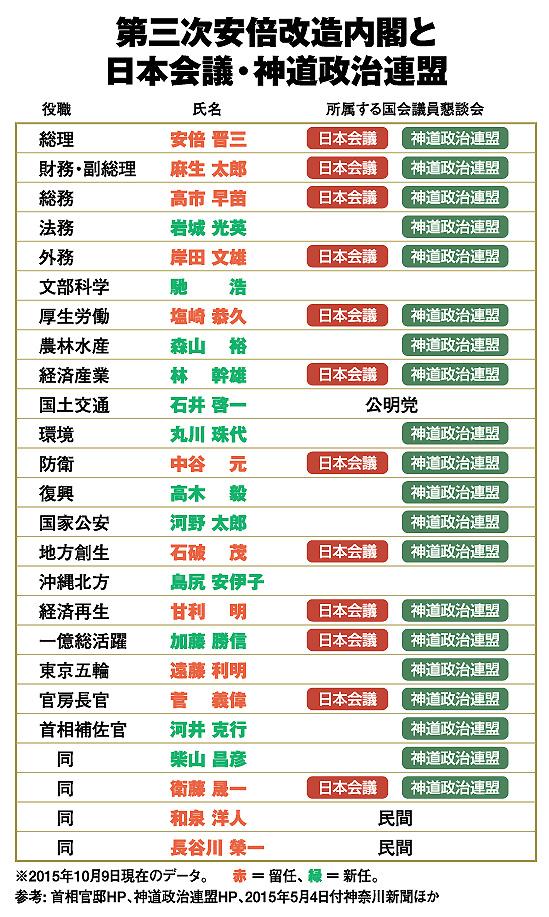 The Third reshuffled Abe Cabinet and
Nippon Kaigi/Shinto Association of Spiritual Leadership
PDF file of English translation can be downloaded
HERE.
Reference: Homepage of Prime Minister of Japan and His Cabinet,
Homepage of Shinto Association of Spiritual Leadership,
Kanagawa Shimbun dated May 4, 2015 and others
English translation of an excerpt from a Japanese article: Twitter – July 13, 2015 –
They say that the

Nippon Kaigi

on the list of which Shinzo Abe enters his name

puts up a poster containing misinformation shown below.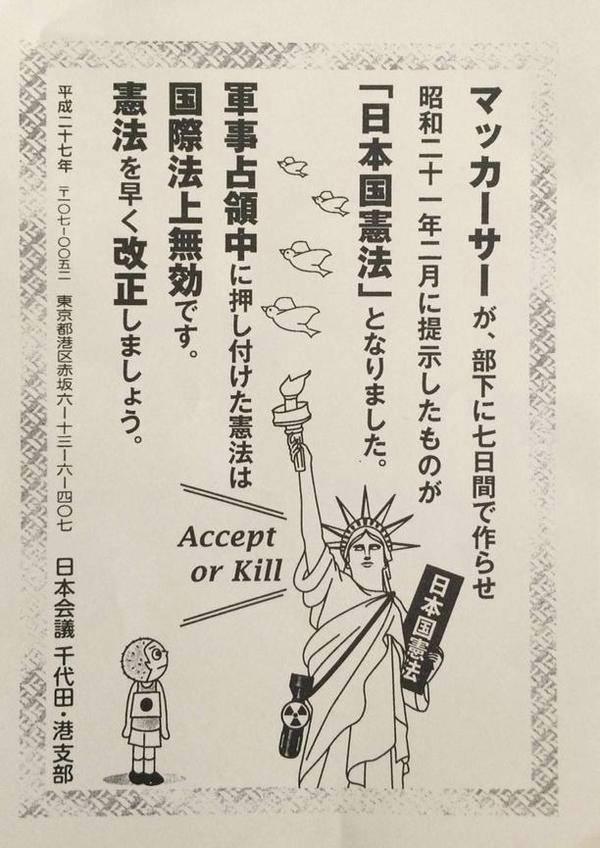 "MacArthur
ordered his men to make a draft
within seven days and presented it to Japan. It became the Constitution of Japan."
"The Constitution which Japan was forced to accept
during U.S. occupation is invalid in terms of international law. Therefore, let's revise the Constitution properly as soon as possible."
In 2015

Chiyoda/Minato Chapter of Nippon Kaigi,
Please see the image with correction put in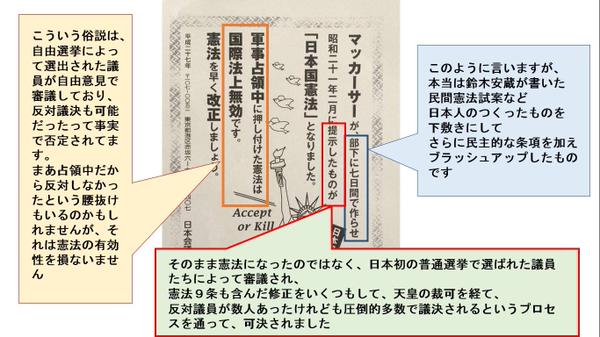 (left ballon)
"Such vulgar belief was negated, based on the fact that the Constitution was deliberated by freely-elected lawmakers who voiced their opinions freely and opposition to the decision was possible. Since Japan was during the Occupation, some lawmakers might have been too chicken-hearted to oppose to it. However, it never leads to losing the validity of the Constitution."
(bottom ballon)
"The draft did not become the Constitution in unchanged form. The Constitution was passed through various processes: lawmakers elected in Japan's first universal suffrage deliberated the Constitution, made several revisions of it including Article 9, and the Emperor ratified it, and then it was passed by an overwhelming majority, though several lawmakers objected it."
(right ballon)
"The poster says like this.

Actually, the Constitution was worked out by adding democratic provisions into the draft made by Japanese such as private Constitution draft written by Yasuzo Suzuki."