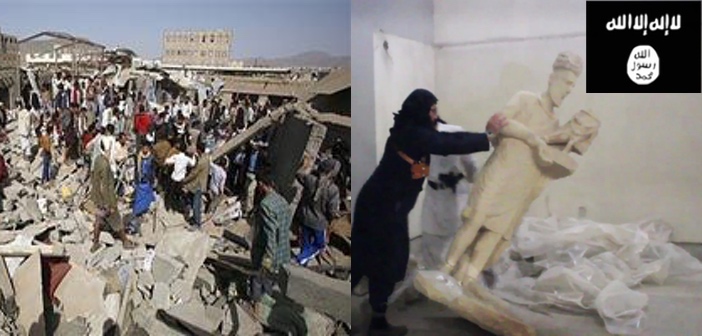 Saudi Arabian Airstrikes Kill 10 People – Those to whom historical truth known to the public will bring significant inconvenience still continue to do wrong.
Saudi Arabia is bombing Yemen. According to Cobra, it is "the Society of Jesus' attempt to erase all evidences linked to the true history of ancient Israelis."
Saudi Arabian Airstrikes Kill 10 People
Saudi Arabian airstrikes on the province of Hajjah, Yemen killed 10 people.
According to AFP, Saudi Arabian jet fighters attacked Yemenite houses on Saturday, 15 with 10 killed and a few people injured.
The jet fighters carried out three airstrikes on the province of Ibb.
These attacks killed four Yemenites and injured a few people.
On the other hand, in operation of Yemen government troops and People's Committee, seven Saudi Arabian soldiers were killed and a few soldiers were injured.
Saudi Arabia has carried out airstrikes on various places of Yemen since March this year.
These attacks has killed several thousand people and made thousands of people lose their houses until now.
Translation of the except from a Japanese article: Now Creation – June 3, 2015 –
A worrying factor is that

the ISIS created by the Society of Jesus is trying to destroy Palmyra –ancient Roman city in Syria

. The statue linked to ancient goddess has already been destroyed.
Apart from the destruction of goddess statue, the agenda of this organization is to cover up the fact –

Israelites were the Arabian tribe living around Saudi Arabia and Yemen and they had never stepped into Palestine

. They

try to conceal and destroy archeological evidence

.
Interestingly,

Palmyra

was an important hub located in major trading route of Arabian tribes. And

there exists a lot of archeological evidence on the true history of Israelites

.
The current conflicts in Yemen
are caused by

the attempt of the Society of Jesus to erase all evidence on the true history of Israelites

. If it were made to the public, the
Roman Catholic Church would be shattered into small pieces.