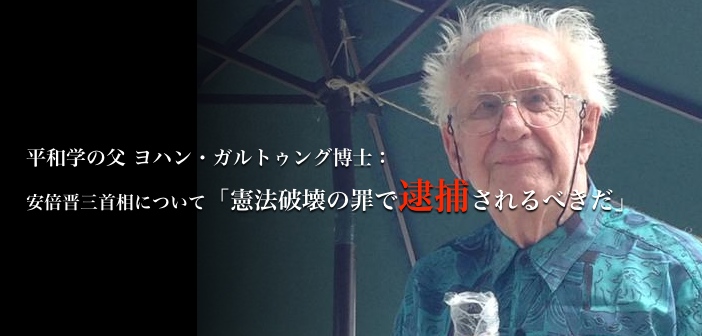 image: Source
Dr. Johan Galtung, Father of Peace Studies says about Prime Minister Shinzo Abe: "He should be arrested on a charge of destruction of the Constitution." / Prime Minister "plagiarizes" the word of positive pace.
Dr. Johan Galtung has put into words how many people vaguely feel by saying: "Prime Minister Abe should be arrested on a charge of destruction of the Constitution."
Reading the article below, Dr. Galtung demonstrates an outstanding insight. He makes a suggestion: "With the spirit of independence, Okinawa should invite non-governmental organizations in the neighboring countries" and make it the headquarters of a community toward "a new peace order." In a word, it will become a Switzerland in East Asia. It accords with the past remarks by Mr. Fulford.
I think that Okinawa and the world will move in a direction as Dr. Galtung says, in the long run.
English translation of Twitter – August 22, 2015 –
Okinawa Times Henoko news crew@times_henoko
At 11.46am on August 22, Dr. Johan Galtung, advocator of "positive peace", visited the front of the gate and said: "Prime Minister Shinzo Abe

should be arrested on a charge of "destruction of the Constitution

." Citizens staging a sit-in there gave applause to him. #henoko #okinawa
English translation of an excerpt from the Ryukyu Shimpo – August 23, 2015 –
Dr. Johan Galtung
, who is globally famous as "Father of Peace Studies", visited Okinawa Prefecture on 22 to give a lecture titled "Dr. Galtung Speaks about 'Positive Peace' and Okinawa 70 years after the war" (sponsored by the Ryukyu Shimpo and New Diplomacy Initiative) held at the Tedako Hall in Urasoe City.
Prior to the lecture, Dr. Galtung visited Henoko, Nago City, where construction of a new base is in progress, and

criticized the Japanese government's stance by saying "Prime Minister Abe plagiarizes the word "positive peace" and tries to do exactly the opposite from the original meaning

I intended to convey.

"
In the lecture, he

asserted: "The exercise of the collective self-defense right is 'outdated security' and go against the global trend

. He stressed that "Okinawa should take the initiative to positively propose the idea of umbrella for peace in north-east Asia."
He said that

the global trend was toward a "new peace order" aiming at abolition of military bases

. He

predicted that Northeast Asian countries would move forward toward forming a community

, which belatedly succeeds to the European Union (EU) or

Association of Southeast Asian Nations (ASEAAN),

in 2020

.
He

pointed out that "Okinawa sits in the geologically important area"

in seven countries or areas of Japan, Russia, Korea, North Korea, China and Taiwan. He said:

Japan needs to establish a peace umbrella, not a nuclear umbrella,

because the country has no good relations with other countries except for Taiwan over dispute over the Daiouyu islands, the Takeshima or the northern territories.

Furthermore,

he sugested that Okinawa show spirit in declaring bid for a special prefecture so that it can headquarter the community by attracting international organizations.
Dr. Galtung demonstrated his recognition that Okinawa has been treated like a colony by the U.S. and Japan. He told that

in order to overcome it, Okinawa should not only call for "protest against base" but positively propose the concept of peace umbrella in Northeast Asia.

He made a suggestion that with the spirit of independence Okinawa invite non-governmental organization in the neighboring countries to the prefecture to discuss how to solve problems.
After the lecture, Masaie Ishihara, emeritus professor at Okinawa International University, Suzuyo Takasato, co-leader of the Group of Women Who Take Action with the Aim of Disallowing Base and Army and Masaaki Gabe,professor at University of the Ryukyus took the rostrum to exchange opinions.

Approximately 700 people listened intently to them.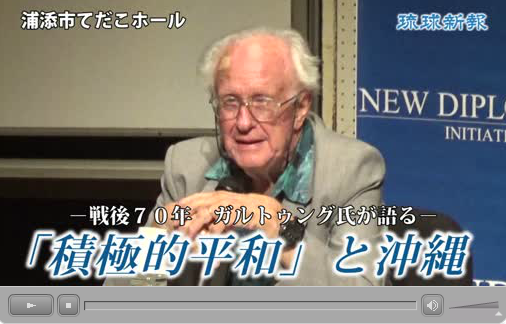 - Watch video at
the source
-
Dr. Johan Galtung emphasizes that Okinawa should propose the concept of "peace umbrella" in Northeast Asia = at Tedako Hall in Urasoe City on 22