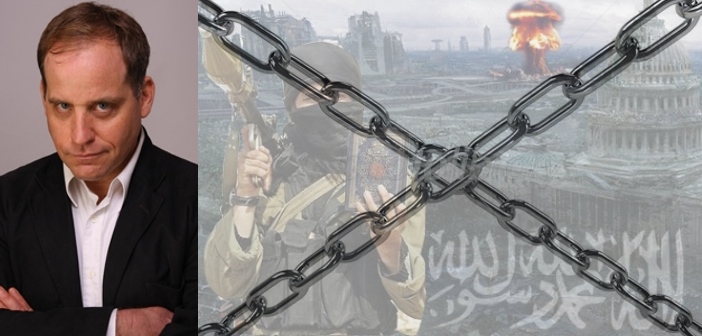 A row of dominoes which started from Greece predicted to finally reach the U.S. /Finial elements of nuclear blackmail network will be dismantled – Blocked nuclear terrorism –
Mr. Fulord also predicts that a row of dominoes which started from Greece will finally reach the U.S. If this happens, Japan that holds a lot of U.S. government bonds will become troubled. Since Japan has its own currency and has no debts overseas, the situation is different from in Greece. However, it is highly likely that the national bonds will take a nosedive and a serious inflation will occur. The biggest problem is the current situation in which Japan cannot achieve self-sufficiency in food and energy.
What is said in the report is full of hope: "once the final elements of his nuclear blackmail network are dismantled," Netanyahu would be arrested and on top of it, "this mantle is almost complete."
It might be unlikely that nuclear weapons would be used in terrorist attacks in the U.S. on July 4, warning for which was given. If terrorist attacks should occur, chemical weapons or biological weapons might be used. I wish it could be prevented.
Excerpt from a Japanese article: How Sad! – June 30, 2015 –
So, it has finally happened. Greece has shut down its banks and imposed capital controls. And so

the dominoes start to fall

. This is only the first act in a grand opera that will continue to unfold in the coming months.
So now that Greece has failed

we can expect Spain, Italy, France, Germany and finally the United States itself to follow a roughly similar trajectory to what we saw with the Soviet Union.
Chinese and BRICS government sources explain what they are going to do next.
Chinese number 2 Li Kegiang
is arriving in Europe this week where he
will announce
China will
contribute
generously
to a European reconstruction fund
with an initial budget of 315 billion Euros.
It is no coincidence that this is almost exactly the same amount as the Greek debt total is.
The Chinese offer of bail out money for Europe is the one of the reasons why the UK, France, Germany, Italy, Switzerland etc. agreed to join the China initiated Asian Infrastructure Investment bank.
In addition to this, the BRICS development bank, the Asian Infrastructure Investment Bank and many other new institutions are also now opening shop. All of these institutions will be helping direct a flow of $21 trillion worth of Chinese money that is expected to flood world markets in the coming months and years.
The British are further along in the negotiations with the Chinese than other Europeans but you can be sure the Greeks, then the Spanish, Italians and others will not be far behind.
Hungary is ahead of the rest of Europe in that they have already agreed to participate in the Chinese silk-road initiative to build extensive transportation infrastructure across Eurasia.
Even as this avalanche of Asian money looms over the world markets, there are still frantic moves afoot to try to keep the old Western system solvent. The latest move on that front according to Japanese right wing sources, has been a request by the US Treasury Department that the Mitsubishi Group take-over the Union Bank of Switzerland. The problem is the Americans are not letting Mitsubishi do any real due diligence. The right winger recalls the same thing happened when the Japanese were asked to bail out Merrill Lynch. "They are just asking us to fill in a black hole," he complained.
The Mitsubishi Group, with its close ties to David Rockefeller, is the main force behind the Abe slave regime in Japan
, according to multiple sources here. Abe, because of his low IQ, was sent to the low prestige Seikei University founded by the Mitsubishi Group as a favor to his war criminal grandfather. It appears forcing Mitsubishi to buy UBS is payback for the US campaign to allow Mitsubishi Heavy Industries to start exporting weapons.
The military build-up in Japan is part of a plan first proposed by Senior Nazi cabalist Richard Armitage more than a decade ago. The Abe government is betting its final energy on laws aimed at integrating the Japanese military with the US military. These are expected to be pushed strongly over the summer.
However,
there are growing signs in Japan of revolt against the Shinzo Abe slave government.
There is a concrete scenario to replace Abe this autumn, according to several Japanese power brokers.
The details are still being kept secret but
the P2 Freemason lodge, M16, Asian secret societies, the Japanese yakuza and other factions are pushing this scenario
. Only a few top level Khazarian slaves remain in support of Abe now. Their names have been noted and they will be asked to step aside this autumn.
In addition to this,
the take down of the Khazarian gangsters and their proxies in the Middle East, Europe, the US and Israel continues to unfold
. In the latest development,
the United Nations has de facto charged Israel's Prime Minister Benyamin Netanyahu with being a war criminal
.
His arrest
is expected
to take place once the final elements of his nuclear blackmail network are dismantled.
Pentagon
sources
say
the dismantling is almost complete
and that
Netanyahu would be in jail "sooner rather than later."
There was also a military mutiny against the Khazarian pseudo-Muslim government in Saudi Arabia last week in what is expected to be an avalanche of military defections against that regime.