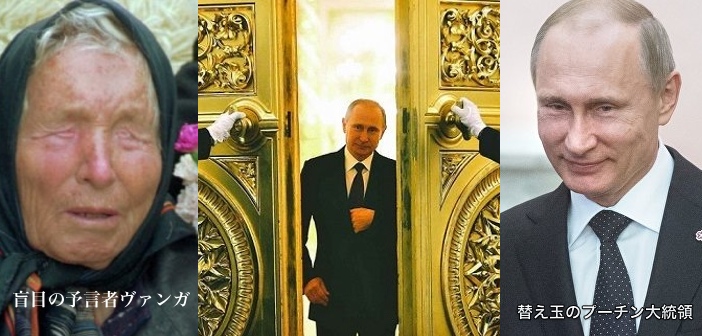 President Putin to Hide Himself from Public View and Move the Earth Behind the Scenes as Leader of Nathaniel Camp
I think President Putin in the right photo is his body double. Reading the second article, it appears that such rumor has already been spreading. In the past I introduced a prophecy of Bulgarian prophet Vanga "Russia will be decapitated." I suppose this prophet has come true.
Probably, the body double would appear in public in the future. Real Putin will hide himself from public and move the earth behind the scenes as the leader of the Nathaniel camp. Big figures of the Nathaniel camp such as Jacob Rothschild and Xi Jinping will follow the instructions of World Emperor Putin.
English translation of an article of the Japanese version of Sputnik – April 24, 2015 –
President Holland: Russia and France Can Play an Important Role in A series of

Complex Issues
French President Holland stated in a meeting with Russian President Putin held in Yerevan, capital of Armenia, that Russia and France can play an important role in a series of complex issues such as Syria, Iran and Libya.
"We need Russia and have another issue we have to discuss together. We need Russian role and French role respectively in a series of complex issues such as Syria, Iran and Libya. We are tackling with these issues together. Just for this purpose, we had to have a meeting here in Yerevan."
PUTIN BODY DOUBLE – Is Putin Still Missing? Did the Elite Replace Putin With a Body Double
Summary of video posted in March, 2015
There was an incident where Putin suddenly disappeared from public view for ten days several weeks ago.
Alternative media spread various rumors: he was killed, his lover gave birth to his child, or he is recuperating from illness.
When he reappeared in public, however, he looked clearly different from how he had looked.
He might gain weight after a long period of rest? He has a chubby face and has a double chin. He has slanted eyes like a Chinese, a smaller nose and thicker lips than before. He is rumored to have undergone cosmetic surgery to rejuvenate his appearance (during his vacation) .
However,

Putin who has appeared anew is not real

. Compare this face with the face Putin had before disappearing. He has an elongated face.
A body double or a clone is used.
New Putin smiles with fingers crossed. We have never seen Putin smiling in this manner.
New puppet Putin is going to break out World War together with the NATO.
European media also report that reappearing Putin is different from what he was.
Furthermore, there is something like a scar on the head of new Putin. This is not reflection of light.