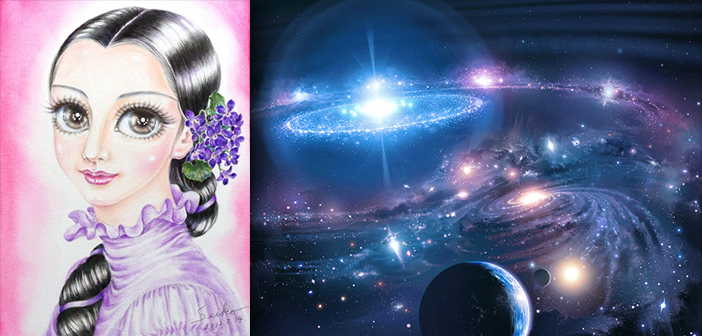 Message from Sumiwataru-takakishoshino-himemiko 26 - Systems and dimensions of Great Universe beyond Galaxy Supercluster Deity System
Mrs. Seiko Nakanishi received a message from Sumiwataru-takakishoshino-himemiko during a 56-minute communication, which started from 10:46 am on May 9. According to Mrs. Nakanishi, when she tried to *replay the message in her head, no message appeared, and instead several numbers appeared.
Mrs. Nakanishi felt something was wrong in the contents of the message and then got in contact with the goddess again for confirmation. More details goddess told her is shown below.
I give an explanation about the chart and its meaning after Mrs. Nakanishi's comment. Please refer to it.
Note) Numbers in the chart show dimensions. For details, please refer to the System of Heavenly World.
Message from Sumiwataru-takakishoshino-hi
m
emiko 26
<Communicator: Seiko Nakanishi>
<Communication date: May 9, 2015>
Since I felt something was wrong in how the goddess told me, I have just got in contact with Sumiwataru-takakihoshino-himemiko again for confirmation. I have asked the goddess to tell me more details. The following figure is what I have summarized her explanation.

I missed the fact that with this chart as one block, the same chart was repeated 12 times. I feel greatly sorry for making a mistake in the last description and overlooking 12-time repetition.
The above-mentioned Mrs. Nakanishi's comment is charted as follows:

The part equivalent to the five blocks from Heavenly deities & Earthly deities to Galaxy supercluster deities & Galaxy cluster deities in 12 Systems is our universe. Sixth and over blocks are outer space. I give color to the part equivalent to our universe.
I sent a message to the goddess, where I asked her to answer my questions about this chart with yes or no. I'd like to introduce it tomorrow.