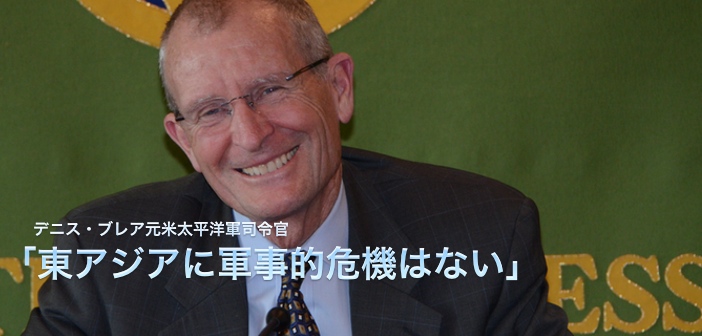 Former Commander in Chief Dennis Blair Clearly States: "No military crisis is in East Asia."
Previously, I commented about the Fulford information that Mr. Dennis Blair is spiritually guided by the "Galactic Federation."
He is the person I expect to work on the Sasagawa Peace Foundation and Japan handlers to lead Japan in the right direction.
An article which confirms my opinion has been published. If Mr. Dennis Blair's statement is his real thought, you will understand well that he is the person spiritually guided by the "Galactic Federation" who works together with the White Dragon Society.
I have mentioned that a group led by the Shadow Emperor which was rushing headlong on the path of World War III together with the Bush/Nazi camp is turning for direction. You will see that it is true. They have no intention to start a war. Among the group are the Unification Church and Kim Jong-un, the supreme leader of North Korea. Kim Jong-un has a relieved look because he has been liberated from a war. North Korea has made a vigorous approach to Russia. I think this is a sign that this camp has renounced a World War III.
English translation of a Japanese article: Nikkan Gendai – April 28, 2015 –
Former Commander in Chief Dennis Blair Clearly States: "No military crisis is in East Asia."
The Abe administration which rushes to introduce legislation toward establishment of national security act is fueling a sense of crisis as if a contingency were near at hand. It is an outrageous fabrication.
Former Commander in Chief, U.S. Pacific Command Dennis Blair (former Director of National Intelligence, U.S.)
recently

gave a lecture in the Foreign Correspondents' Club

, where he clearly stated:
"Although there have been many reports on the possibility for an outbreak of Sino-Japanese war, I don't think so. The military situation in East Asia is very stable and I think such situation will last a long time."
Mr. Blair gave a clear reason to support his opinion.
"Territorial disputes in East Asia other than a partial exception are mostly related to islands. A large-scale military operation is necessary to change the territorial right of the islands and an invading nation has to keep on controlling the air and the sea for a long period of time. And unlike in Eastern Europe and Middle East, in East Asia countries are not adjacent to other countries. Therefore, no ground war over border line will occur and there is no risk of religious or racial conflicts and proxy wars."
For this reason, he flatly stated that it is "very unlikely that North Korea will invade South Korea. How about Senkaku islands?
"It is very unlikely that China will be able to militarily control Senkaku islands. If it makes an attempt to do so, China will fail and take a big political risk."
Additionally,

Mr. Blair

said:

"Looking around East Asia, there is no place where any conflict will likely occur. We see tensions in economic relations."
Director of National Intelligence Mr. Blair used to serve as supervises the Central Intelligence Agency (CIA) and is authorized to control the personnel and budget of 16 intelligence agencies of the Federal government. In other words, the director is the boss of intelligence. It appears that

this lecture will definitely cause a stir in premature discussion on legal amendment in the Abe administration.