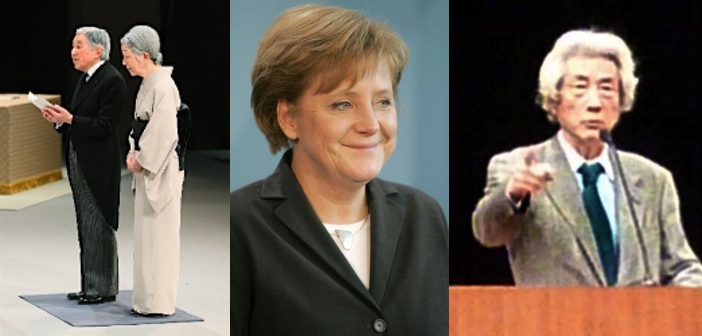 In Spite of Address of Emperor, Appeal for Zero Nuclear Power" by Germany Chancellor Merkel and Former Prime Minister Junichiro Koizumi, Prime Minister Shinzo Abe Insists on Resumption of Operations at Nuclear Power Plants
Long time ago I gave a comment that the "global elite" have steered toward zero nuke plants." Subsequently, after making an inspection of the Onkalo spent nuclear fuel repository, former Prime Minister Koizumi made a declaration of zero nuclear power.
I also told you that Japan handlers switched to the Jacob Rothschild side. Recently, Mr. Eiken Itagaki has given a similar account. According to today's article, "although the true prime minister was Michel Green, he has recently been replaced by a person named Ross, affiliated to the Rothschilds, according to Mr. Benjamin Fulford."
Given the address of Emperor, suggestion for zero nuclear power plants by Chancellor Merkel, and recent changes of Japan's true prime minister to a person affiliated to Jacob Rothschild, it shows that the global elite, namely the Goldman Family Group mentioned by Mr. Eiken Itagaki, are steering toward denuclearization.
It is the Abe administration that has kept running count to it.
*

The government-sponsored "Memorial Ceremony Making the Fourth Anniversary of the Great East Japan Earthquake"

was held in the National Theater of Japan (operated by the Japan Arts Council, an independent administrative cooperation) located at Hayabusa-cho, Chiyoda-ku, Tokyo in the afternoon of March 11. The ceremony was attended by the Imperial couple, Prime Minister Shinzo Abe and about 1,200 representatives of bereaved families. After Chief Cabinet Secretary Yohsihide Suga gave an opening address, all participants sang the national anthem and observed a one-minute silent prayer at the exact time of the event, 2:46 p.m. 3-11 Japan time to express condolences for the victims. Prime Minister Shinzo Abe representing the government read an address and the Emperor gave a speech.
In his speech,

the Emperor

said, "I learned the importance of evacuation drill and tsunami education and training on a daily basis" and "I think

it is important to pass down such lesson to our offspring without forgetting it and keep on making efforts to build safer national land

." As for the UN World Conference on Disaster Risk Reduction to be held at Sendai City from March 14, the emperor said, "I hope that the lesson from the great earthquake will be shared only in our country but in other countries all over the world and

significant achievement will be gained in terms of

reduced damage and

assurance of safety

of people.

The message showed how deeply the emperor is concerned about Prime Minister Shinzo Abe who is highly motivated to resume the operation of nuclear power plants

across the country, the operation of which is suspended. Incidentally, the "UN World Conference on Disaster Risk Reduction" to be held at Sendai City from March 14, for which Japan is the host country, is participated by World Bank Group President Jim Yong Kim.
*
German Chancellor Merkel
who visited Japan
said
: "We were surprised at the fact that the accident at the No. 1 nuclear power plant in Fukushima occurred in a nation like Japan, which has a high level of technology, and
we decided to accomplish zero nuclear power plants by 2022.
" Although the chancellor
implicitly criticized of the policy to resume operation of nuclear power plants
that Prime Minister Abe tries to promote, the prime minister stubbornly insists on resuming operations.
*

Former Prime Minister Junichiro Koizumi

, the mentor of Prime Minister Shinzo Abe,

gave a lecture in Kitakata City, Fukushima Prefecture on the afternoon of March 11 and strongly called for policy change to zero nuclear power plants

. The "Japan Assembly for Nuclear Free Renewable Energy" (Representative Director: former Prime Minister Morihiro Hosokawa) put a full-page ad in the Asahi Shimbun on March 10, with a photo of former Prime Minister and former Prime Minister Morihiro Hosokawa who calls for "We'll never forget March 11. Natural energy is the power for jump." Prime Minister Shinzo Abe still remains to ignore such remarks. It means, in a word, that the love of the mentor is unrecognized by the disciple.