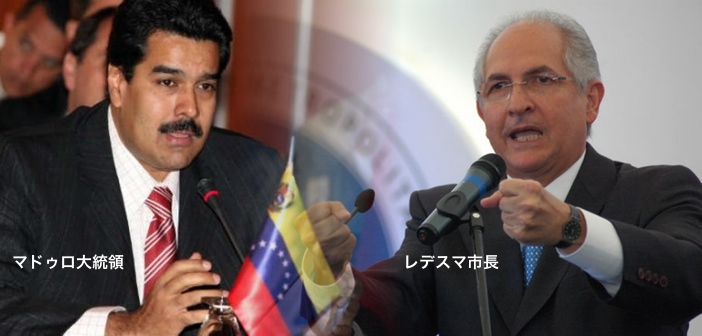 Reportedly, the U.S. had a coup plot to remove the Venezuelan Maduro administration supported by the people. If the coup had succeeded, a new government would have claimed for "privatization of the oil industry, deregulation of economy and agreement with international financial organization such as IMF" with which some people would plunder national assets to sell out Venezuela for foreign investment. In a word, it is the U.S. that controls Venezuela.
The U.S. is a supposedly democratic nation but actually an autocratic state which is controlled by some people with power. They fantasize about the word order under centralized control of the U.S. by spreading such dictatorship all over the world. I think they believed that they can achieve world control by means of wiretapping and surveillance, assassination of political enemies, and military power.
Unlike the image created by the media, Venezuela is, in my opinion, the most democratic country.

I feel that Russia is also a very democratic nation compared to the U.S. Although the U.S. and Japan pretend to be democratic countries, they have never been such nations. I think there has never been democracy on the earth.
I think that we have to change the earth to build a nation where public opinion is reflexed on the global level.
Partial extract from AFP – February 20, 2015 –
Capital Mayor in Venezuela Arrested "Involvement in U.S.-Supported Coup"
Caracas (AFP) -

Masked intelligence service agents

arrested the mayor of Caracas over what socialist President Nicolas Maduro alleges was

a coup plot financed by the United States and directed "from Washington."
The United States immediately dismissed the claims as "baseless and false" and said it was an attempt to blame Washington or other countries for the problems of Venezuela, which is facing economic collapse -- culminating in critical shortages of basic goods -- and rocketing crime.
Thursday's arrest of

Mayor Antonio Ledezma, a veteran opposition figure,

comes nearly a year to the day of that of Leopoldo Lopez, an opposition leader detained amid fierce protests against Maduro that turned deadly.
Ledezma is a senior opposition figure who was elected in 2009 as mayor and reelected in 2013,
although the

Maduro

government has moved to restrict his powers.
Maduro calls Ledezma "The Vampire" and has accused him of being behind last year's anti-government protests that left 43 dead.
Maduro linked him to a supposed coup plotted by military aviation officials with what Maduro alleges is help from the United States.
English translation of the excerpt from a Japanese article: Sakurai Journal – February 25, 2015 –
Venezuela government announces coup plot and gives names of the U.S., Israel, Canada and Germany
On February 12 Venezuela President Nicolas Maduro has announced to stop a coup plot.
Reportedly, on this day, it was planned that an airplane of an American private military company "Acamdemi" (formerly known as Blackwater) would attack the official residence of the president, assassinate President Maduro and have agents sneaking into the country stage a riot.
It is said that

this coup plot with a code name of "Joshua Plan" was finalized on February 6 and was directed by the U.S. National Security Council senior director Ricardo Zuniga

. This person served as chief of the Havana CIA station from 2009 to 2011 and maneuver to employ agents in order to organize anti-Fidel Castro group. It is Brig. Gen. Thomas Geary, who directs the intelligence agency of the United States Southern Command (SOUTHCOM) and Rebecca Chavez of Academi who are in charge of military operation.
Although it appears that Cuba promotes to improve relations with the U.S., the U.S. was preparing for a coup behind the scenes.
NGOs including NED seemed to play a central role in Venezuela, too.
It is said that

Israel, Britain, Canada and Germany participated in a coup plot and they were supposed to be in charge of assassination of the Chavez group, propaganda, control of international airport and protection of people of the NATO countries

.
If the coup had succeeded,

Mari Corina Machdo, former legislator, was supposed to assume the presidency

.

On 11 Machado issued a statement jointly with Antonio Ledezma and Leopoldo Lopez, in which they appealed for the shift to a new government and claimed for privatization of the oil industry, deregulation of economy and agreement with international financial organization such as IMF.

It is the declaration to the effect that we want to become "oligarchs" by having "borderless massive capital" control Venezuela and plundering national assets.
The current administration of Venezuela follows Hugo Chavez's policies. Chavez assumed the presidency in 1999. Three years later, the U.S. conspired in vain to launch a coup.
Subsequently, coup plots by the U.S. continued: on February 17 last year, three U. S. diplomats, that is, vice consuls Breean Marie McCusker and Jeffrey Gordon Elsen, and second secretary Kristofer Lee Clark were expelled. It appears that the U.S. was trying to organize a student protest group. The leader of the student group was said to be Leopoldo Lopez, who has studied in Harvard University and issued the above joint statement on 11.