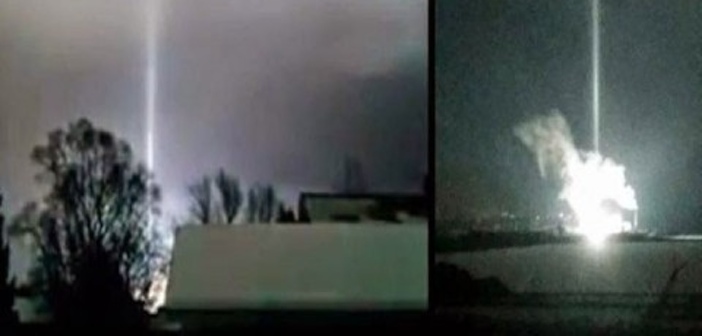 image: Source
Power Plant Explosion In Escanaba, Michigan Accompanied By Strange Beam Of Light! – Attack by Spacecraft of Pleiadian Council –
According to the original article, this strange beam of light is considered the work of Russian special operations forces. However, I think it is wrong.
In the 11th message from Sumiwataru-takakihoshino-himemiko, there is a description: "there secret weapon HARRP, remote-controlled earthquake generator, ability to manipulate natural phenomena, invention of various chemical weapons and so on were inherited to some of the New World Order Elite such as Neonazis on the earth and they were used …. Members of spacecraft of the Galactic Federation of the Pleiadian Council are thoroughly searching for such weapons and many weapons have already been nullified."
I think this beam of light seen in the video is an attack by the spacecraft of the Pleiadian Council. Probably, there was weather warfare like HARRP in the neighborhood of the area and massive amount of electricity has been provided by this power plant.
Power Plant Explosion In Escanaba, Michigan Accompanied By Strange Beam Of Light!
Lately strange things happen in the skies. We see a lot of strange unnatural fireballs, strange objects falling from the skies, flashing spheres and laser beams in space recorded by the ISS Live stream HD cam.
And now, Escanaba residents awoke

Monday

to find themselves without power after

a mysterious
explosion at a power plant in Escanaba, Michigan
that has left much of the area in the dark.
According to a Allnewspipeline, the explosion was accompanied by a strange light that one reader said "shot straight down from the heavens." While the local media attempted to explain away the light as an oncoming train, most readers weren't buying it.