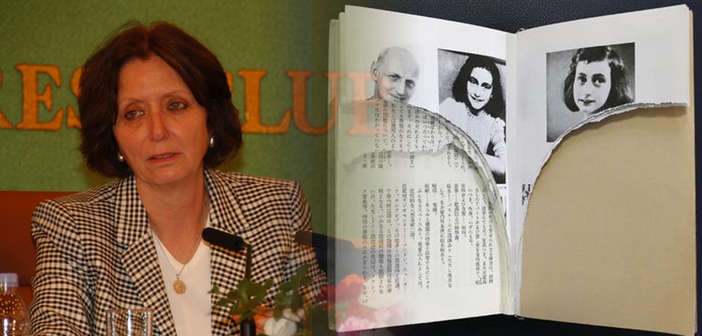 Ambassador of Israel to Japan Ruth Kahanoff, Actual Mastermind Manipulating the Abe Administration behind the Scenes
This article is linked to the last article. The truth about those who manipulate the Abe administration behind the scenes has been eventually revealed. They are led by this woman I have picked up in this article.
There was an incident of vandalized copies of Anne Frank's Diary in February 2014. I have picked up the last article because the writer has the same opinion as I do. I also think that this incident was staged by Israeli Embassy. After Jews won the sympathy of Japanese in this incident, Netanyahu visited Japan in May the same year. Just read what was talked in the Japan-Israel Summit Meeting organized by the Ministry of Foreign Affairs of Japan, you will understand well what the Abe administration is doing.
Japan originally deeply linked to the CSIS (Center for Strategic and International Strategies) has been controlled by neoconservatives (pro-Israeli group). It is said that Japan handlers, who represent the institution, have controlled Japan. I think it is true. However, the situation in recent years has made me think that it might not be true.
I have finally identified who is the actual mastermind.
Ruth Kahanoff, Ambassador of Israel to Japan

September 24, 2013
Visit to our Ministry by Ruth Kahanoff, Ambassador of Israel to Japan
We announce the topic in the title as follows:
Her Excellency Ms. Ruth Kahanoff, Ambassador of Israel to Japan
2.
Date and destination to visit
14:30 – Minister of Defense
(Schedule is subject to change if the situation calls for it.)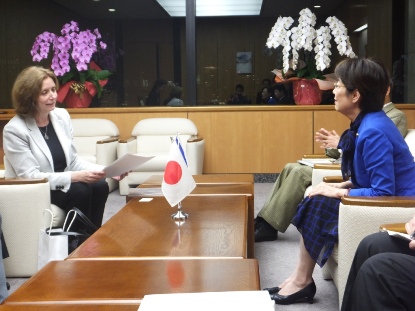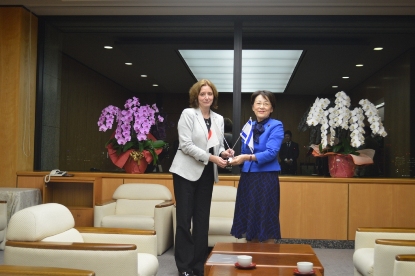 Chairperson of National Public Safety Commission Yamatani received a courtesy call by Ruth Kahanoff, Ambassador of Israel to Japan on October 28.
English translation of the excerpt from a Japanese article: To Live – June 19, 2014 –
Suspect of incident of Anne Frank's Diary Vandalism to be exempted from prosecution conveniently by reason of insanity
It appears that

a suspect of the incident of Anne Frank's Diary vandalism, who was arrested and is in custody, will be exempted from prosecution

.
The reason is "he was mentally incompetent (or non compos mentis) when committing the crime,"
which sounds fishy.
-----------------
The Yomiuri Shimbun, PR newspaper for Jews
Suspect man judged to be "mentally incompetent" – Case of Anne Frank's Diary Vandalism to be exempted from prosecution
In an incident of vandalism to "Anne Frank's Diary" and its related books
, an

unemployed man, 36,

living in Kodaira City, was arrested by the Metropolitan Police Department on a charge of destruction of property and is now in custody. It has been revealed in an interview with investigators that the suspect was

diagnosed as insane when committing the crime in a psychiatric test

, which was carried out on the request of the Tokyo District Public Prosecutors Office.
The Office will exempt the man from prosecution
by reason of its difficulty to press criminal charges against him.
A series of incidents occurred in February last year. At public libraries of eight wards of Tokyo more than 310 books including Anne Frank's Diary were ripped into pieces. The Metropolitan Police Department arrested a man on charges of vandalizing more than 40 books, which occurred in two libraries of Suginami Ward in March and April this year.
The man repeatedly gave incomprehensible statements to the police, saying "The Anne Frank's Diary is a book disseminated by the devil." The Prosecution Office requested the Tokyo District Court to give a permission to detain him for expert evaluation. Psychiatric tests have been carried on him by experts until 16 this month.
-----------------
The suspect vandalized more than 300 copies of Anne Frank's Diary-related book at libraries and bookstores in Tokyo. He chose only books related to Anne Frank's Diary in secret, ripped them into pieces and soon got them back without anyone knowing. I wonder if he was able to do such a thing while being mentally deranged, and yet not once but many times. Did he lose sanity conveniently in each case?
State in which a person lacks ability to judge the outcome of his own behavior due to mental disorder and others. It's more serious symptom than feeble-mindedness. Not legally punished.
If a person is not mentally competent, law cannot punish him because it is so severe mental state. The suspect committed a crime in an orderly fashion with a definite intention. It is almost unimaginable that he did such a thing while mentally incompetent.
Although it is a self-serving imagination, I suppose that the suspect of this incident has anti-Semitic way of thinking or Jews staged this incident to win the sympathy of Japanese people.
Jews want to

entice Japanese to become pro-Jewish by defending them against anti-Zionism

. In such an incident, they worry most about revelation of the real intention of the criminal. So it is convenient for them if the criminal is considered to be insane.

If this incident should be staged, it is false insanity operation to protect the suspect.