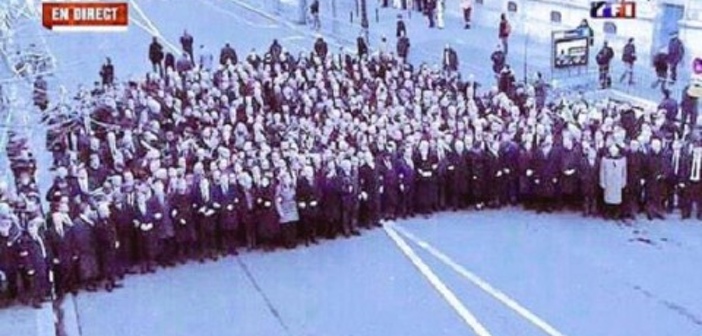 image: Source
Photo of politicians joining the memorial march for victims of terrorism in Paris is fabricated
Hey, behind the attacks are the Illuminati and President Hollande. Are there any honest people in this photo? *Orando.
*(Note) "Orando" is a pun for the president's name. "Orando" means that 'there is nobody' in a Japanese dialect.
English translation of the excerpt from the Japanese version of The Voice of Russia – January 14, 2015 –
Photo of politicians joining the memorial march for victims of terrorism in Paris is faked
The photo of a memorial march jointed by politician from several countries
to protest the attack to the Charlie Hebdo

was fake

, Germany economy news (Deutsche Wirtschafts Nachrichten, DWN) reports.
The photo showing the politicians joining the march was circulated throughout the world. In Paris on 11, more than one million citizens participated in the march to demonstrate their solidarity with the victims of terror attacks. According to media catch-phrase, European leaders stood at the forefront of the memorial march and shared solidarity with citizens.
However, this photo has been found to be actually

fabricated.

The politicians

never walked at the head of the march, but instead

walked in the blocked side street leading to the Place Leon Blum.

It is

not the "people" but the staff of security agency who followed the politicians

. Nobody was behind a small group of politicians. According to DWN, the Le Monde confirmed that

shooting was carried out around the subway station Voltire

.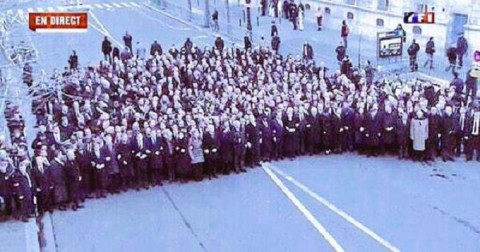 Photo: Deutsche Wirtschafts Nachrichten