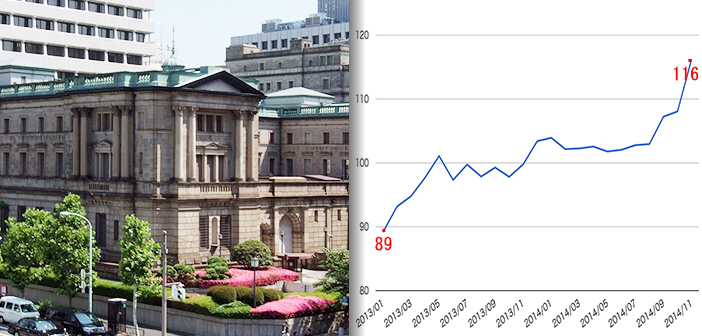 Mr. Kazuo Mizuno Warns: "Bank of Japan Voluntarily to Put An End to Capitalism This Year"
I have repeatedly explained about this scenario. It is likely that prices will rise several times or several score times, though hyperinflation may not occur. Since the BOJ can buy as much as government bonds, we will not see default. However, such price rise will lead to the collapse of people's lives. It is de facto state bankruptcy. I have a feeling that the government is intentionally moving the trend toward such scenario. They might have an intention to start everything including the pension system from scratch. Hell is waiting for pensioners.
English translation of the excerpt from a Japanese article: Nikkan Gendai – January 3, 2015 –
Mr. Kazuo Mizuno Warns: "Bank of Japan Voluntarily to Put An End to Capitalism This

Year"
"End of Capitalism and Crisis of History" (written by Mr. Kazuo Mizuno; published by Shueisha) was the best-selling new book on economy in 2014.
This is a classic book, which ranked first among Weekly Diamond "Best Economy Books" economist and economic experts selected by vote. How does the author who exposed the limits of capitalism see the Japan economy in 2015?
Asked about it, he gave a horrifying prediction. "I write about the end of capitalism in this book. Whether I write about it or not,

I suppose that Japan's economy after 2015 will show the very end of capitalism

," he says. We asked him to explain in order.
"The BOJ set a target of 2 percent of price increases within two years. In April 2013, the bank shot the Kuroda bazooka Round One as the first exceptionally easy monetary policy. However, prices did not rise as much as expected and the second bazooka was shot in October 2014. Although stock prices truly rose, global collapse in crude oil prices resulted in a drop in gasoline prices and as a result, the 2 percent target has not been reached.

Probably, the BOJ will shoot the bazooka Round Three in April 2015

and

make desperate efforts to further weaken the yen

substantially. They are motivated to save face. However, will such policy to induce a weaker yen lead to people's affluent lives? Even

if they

further

raise prices with a weak yen, the real wages will keep on falling as inflations goes on.

I wonder for what purpose the BOJ conducts its monetary policy. I think that the BOJ would have to face the fundamental contradictions it has."
Mr. Mizuno predicts that
Japanese exchange rate will be one dollar to 125 – 130 yen
. Real wage remains in negative growth due to inflation caused by yen devaluation. It is unbearable to ordinary people.
What terrifies us is waiting in the wings.
"It is said that

we have no exit even now

. If carrying our additional easing, the BOK will be stuck in a difficult situation in which it cannot stop taking exceptionally easy monetary policy until Japan's economy collapses. It is because

keeping monetary relaxation boosts asset prices such as stocks or land

. However,

as soon as the BOJ stops the monetary relaxation, such prices will take a great dive

. Naturally, the government presses the BOJ to "continue the relaxation" and BOJ President Kuroda cannot go against the government's intention and is forced to continue to shoot the bazooka.

Before long nobody will purchase government bonds and the BOJ will have to buy up almost all of them.

Finally, it will be impossible to put price on government bonds because of no market available for them. It turns out that we will see

the end of capitalism.

"
It is the Abe administration that shatters everything.