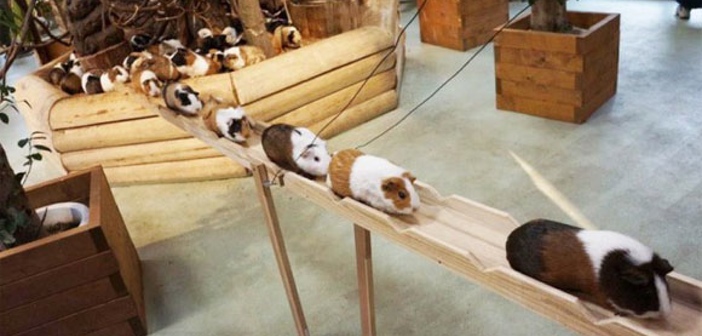 Guinea Pigs Lining Up – Too Cute images of guinea pigs at Japan's zoo heading off to work seize the heart of the world
The two videos make me feel that guinea pigs are very cooperative with one another. We see very well that they have no sense to concentrate on consciousness to achieve an objective like human beings. I feel that they are always relaxed without extra tension.
Let's try to feel like a guinea pig for a while. See your right foot with the right eye and see your left foot with the left eye. You don't need to actually do so, but instead just see with mental eyes. That will do. Can you feel that you can breathe deeply without extra tension because you don't focus consciousness on one point?
Human beings might concentrate too much on consciousness every day because we are pressed to achieve objectives. This seems to significantly reduce ability to go along or sympathize with others. Let's become a guinea pig now and then.
English translation of the excerpt from a Japanese article: Karapaia – December 23, 2014
Guinea Pigs Lining Up – Too Cute images of guinea pigs at Japan's zoo heading off to work seize the heart of the world
Image of guinea pigs heading off to work at Nagasaki Biopark
English translation of the excerpt from a Japanese article: Karapaia – May 6, 2013
This is guinea pigs' killing method of synchronization "mumbling"