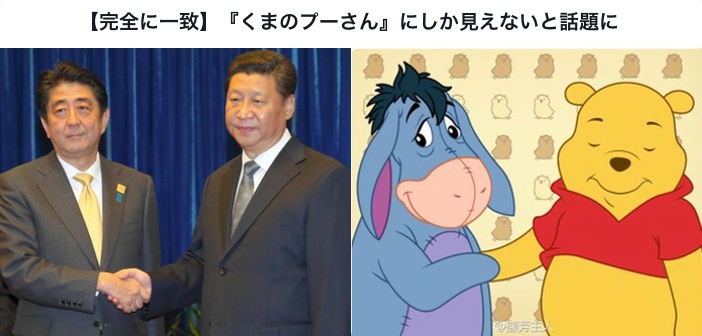 image: source
[Perfect Matching] Handshake between Japan's Prime Minister Abe and China's President Xi Jinping, which just look like "Winnie-the-Pooh", is in the news
Comments for Xi Jinping are acceptable, but I think it goes too fat in beautifying Abepyon to call him Eeyore. However, it is true that he and Eeyore donkey are alike: they are flabby.
English translation of the excerpt from a Japanese article: Rocket News 24 – November 11, 2014 –
[Perfect Matching] Handshake between Japan's Prime Minister Abe and China's President Xi Jinping in APEC, which just looks like "Winnie-the-Pooh", is in the news
Prime Minister Abe and China's President Xi Jinping shook hands with each other when the Asian-Pacific Economic Cooperation (APEC) summit was held in Beijing on November 10, 2014. The icy handshake has been in the news.
Freezing atmosphere shown in this photo is not the only talked-about topic.
In China, this scene which has become a focus of world attention is being shared on SNS because it is exactly the same as the scene of Disney's "Winnie-the-Pooh."
Prime Minister Abe and President Xi Jinpinig are Pooh and Eeyore?
It happened on November 10.

A net user uploaded an image of "Winnie-the-Pooh."

It depicted the

handshake

between

Pooh with his eyes closed and Eeyore donky

.
Voices from Chines net users
"Extremely alike, aren't they?"
"I got it in a second. No need to explain."
"Pooh looks extremely cranky."
"Xi Pooh, why are you so cranky? (Laughter)"
"I burst into a fit of laugher. I though the monitor would be destroyed."
This video shows the comparison of handshakes between President Xi and other foreign leaders.