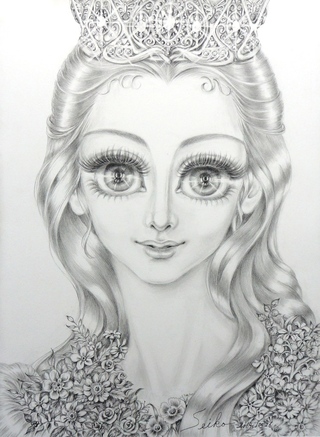 Yorokobino-himemiko (Mrs. Seiko Nakanishi)
<Linga Sarira>
"I have received an illustration of Linga Saira of Mrs. Nakanishi. I think it is a beautifully made work of art.
Mrs. Nakanishi has been promoted to a goddess. Since I have not asked her the name as a goddess, I asked Mrs. Nakanishi to contact with her own Linga Sarira to let us know her name and ask her to send a message to earthlings.
She has drawn her own portrait with a tiara. It proves that Yorokobino-himemiko assumes a high position in the heavenly world.
Her message says: "The order in the heavenly world has gradually stabilized and peace is on track to be fulfilled." The heavenly world mentioned here is the heavenly world which exists in the fourth dimension of Senbu-shu where we live. Mrs. Nakanishi has a divine rank in a plane far higher than Senbu-shu. Her Linga Sarira Yorokobino-himemiko should exist in the plane. However, I think it is convenient for her to stay in lower plane to accomplish a mission in the future. Mrs. Nakanishi will embark on a new work on and after November 1.
It is a great pleasure for me to contact with you through my physical body.
I personally have experienced hardships.
Seeing you facing many difficulties on Earth, I know so well how each of you feels.
However, any hardship or suffering will pass away some day and future is waiting for you, which depends how your state of mind is.
So, please don't give away hope and love and do cherish every moment with the feeling of total surrender.
It appears that the opening of a new age always entails big changes and transitions.
Please do your best and move forward without losing your calm due to temporary rapid changes.
The order in the heavenly world has gradually stabilized and peace is on track to be fulfilled
I assure you that peace as reflection of the heavenly world will be realized on Earth, too.
I do hope you will fight a good fight and live a daily life with peace and joy.
<How she likes about the illustration>
I think the illustration looks like me very well.
It was a very strange experience to induce you to draw my illustration.
However, you grasped very well how I feel.
I am very satisfied to see the illustration which gives an almost perfect finish.
Nakanishi:

I'm so happy to hear your remark.

To tell the truth, I felt it very difficult to draw the illustration.
Especially as for necklace of small flowers, I sometimes pick up some flowers in my garden or fields. I make a wreath with flowers and give it as a gift.
I sometimes play with such wreath on my dress as an accessory.
It is I who induced you to see the picture "Spring" by Sandro Botticelli.
You had a post card of "spring" by Botticelli at hand and I utilized it. Please forgive me (laughter).
Nakanishi:

Oh, looking at the picture, a garland a spring goddess has in her neck jumped out to me. Now I see.
And I am really honored that you graced my head with a wonderful tiara.
The tiara is quite similar in design to the tiara I put on.
Please forgive me for having you draw it many times (laughter).
Nakanishi:

Looking back, I repeatedly drew and erased it until I never felt at odds with my work. I had a tough time of it (laughter).
As you know, a tiara decorated with jewels is totally alien to me (laughter).
Daishoushinmakotonaru-kami and Mr. Masatoshi Takeshita, I really appreciate that you have had me appear as the last illustration.
I am grateful for your thoughtfulness.
Thank you for your hard work, Seiko
Nakanishi

I should be the one thanking you. I'm afraid I have given you quite a bit of trouble. Please forgive me.
However, I have drawn the illustration wholeheartedly to the maximum extent possible. I have no regrets.
I am very happy to learn that you like it. Thank you very much.
<At the conclusion of a series of illustrations>
I was given an assignment of drawing a series of illustrations of deities and fairies in the spring of 2010. Since then I have drawn 404 illustrations for about four and a half years. Now I have accomplished the mission without any accident. I have stopped for a while to take a look back.

I intend to focus my consciousness and energy only on something I'm interested in. As if he had seen through my true colors, Mr. Takeshita provided a new path, in which I would draw illustrations of deities. It was a memorable and miraculous event in my life.




When I was young, when I found something new I put all my energy into, I used to let go hold of what I had cherished thus far and embark on it.




I was surprised when unknowingly I was able to let hold of several hobbies, in which I found my identity, after I encountered an oriental science seminar.




As I focused on drawing illustrations, I let hold of dancing, which was my last pleasure in this world. I had never dreamed of such a thing. (Laughter)

(Honestly speaking, it might be a good example of a proverb: Nobody can struggle against advancing age.)




Belatedly I have realized the fact that this program to convey messages through illustrations of deities to people on earth was such a grandiose project that it was unable to be carried out without the close cooperation of the spirit world and earth.




Daishoushinmakotonaru-kami who planned this project is a general producer and art director in the heavenly world.




Many deities including Goddess Eneruee and Goddess Oomiyahime-michiko have channeled me as a spiritual guide to carry out this project.




Mr. Masatoshi Takeshita has continued to give me detailed information and explanation on illustration, making full use of incomparable and astounding ability as an art director and spiritual leader on Earth.




Many deities, archangels, spaceship crew members and fairies have sent messages to earth through correspondences.




Mr. Kaoru Shirai, representative of Shanti-Phula, has made great efforts to post illustrations on the blog.




Readers have sent warm comments of encouragement every week, which have reached my heart like a twofold or threefold present.




It is already reward more than I deserve to have a chance to draw illustrations of deities and it also gives me joy and satisfaction.




I'd like take this opportunity to express my gratitude to all readers.




Lastly, I'd like to convey sincere gratitude to and respect for Mr. Takeshita, who has patiently guided me until the end with proper advice on illustrations, although I lack in talent for painting and I am immature in realistic expression.