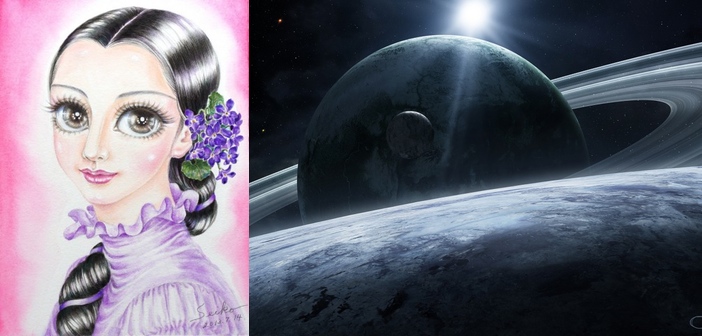 Disclosure of grandiose history 1 – Message from Sumiwataru-takakihoshino-himemiko –
Mrs. Seiko Nakanishi has received a message from Sumiwataru-takakihoshino-himemiko via her proxy. As I expected, the message was about the history of Earth. Theosophy tells only about the history after descendent of Sanat Kumara to Earth from Venus 18 million 500 hundred years ago and it has kept silent about the story about him before it and the downfall of his group.
I suppose that a grandiose history of universe we have never heard of will be disclosed from now on. Upon receiving a message presumably once a week, I'd like to share such information with you.
I think a story I am unaware of will be told. I'm looking forward to it.
There is a remark of goddess: "I returned to Earth one year ago." For details, please refer to this article.
<Communicator: Seiko Nakanishi>
I have received a message from Sumiwataru-takakihoshino-himemiko via her proxy.
The following is her message.
"As I announced beforehand, I'd like to give a message.
Please send it to Earthlings.
At the dawn of an unprecedented era, first of all, I'd like to tell you historical facts in the past.
A plan on Earth was made in the heavenly world tens of thousands of years ago.
However, Earth history had not started yet.
The history leading to today started in the area of the Tigris and Euphrates rivers about 10,000 years ago.
Traces of the distant past have mostly disappeared.
For this reason, events in prehistoric times have been buried in the past and only a small number of excavated ruins still remain.
It is generally believed that historic times started about 7,000 years ago.
However, real history on Earth dates back to tens of millions of years.
About a hundred and thirty millions of years ago, himemiko (goddesses) of our planet were assigned to leave Earth and transfer to other planets, where they watched over Earth.
As you know, Sumiwataru-takakihoshino-himemiko returned home to Earth one year ago.
A lot of false information has confused people.
Then it has been decided that we will convey correct historical facts to you.
You might be surprised at the information to be conveyed, which is at odds with the conventional information.
If you can overcome your bigotry with strong will power and courage to find out the truth with an objective eye, I assure you that mist will be dispersed and you will have an eye for taking a close look at everything.
I'll convey you a lot of things over a long period of time.
Please look forward to having such information.
Truth teller, Sumiwataru-takakihoshino-himemiko"