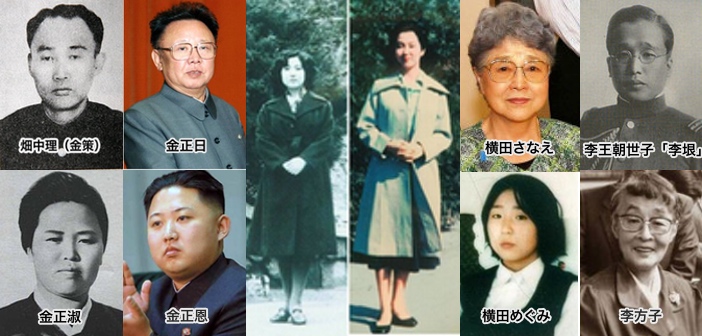 images: from various sources


Megumi Yokota, descended from Korean Royal Family and Japanese Imperial Family, Made A Wife By Kim Jong-il to Assure Legitimacy as Joseon Dynasty
I think this is a relatively well-organized article.

Since the video below of Mrs. Kaoru Nakamaru is quite interesting, please watch it.

I think that Mr. Iiyama was the first to provide this sort of information.

Subsequently, Mr. Eikenn Itagaki, Mrs. Kaoru Nakamaru and Mr. Benjamin Fulford have provided similar information.

Therefore, I believe that this information is of high accuracy.
English translation of a Japanese article: How Sad! – September 3, 2014 –
Something Unbelievable Said!
This old lady says something unbelievable.
I feel closeness between North Korea and Japan.
Around the end of the war,
there were some people in

*Nakano School

who had guts to survive in Southeast Asia even after Japan's defeat in the war.

Among them was Osamu Hatanaka (Kim Chaek)

and he tried to build a new country in North Korea.
*(Note) It was the primary training center for military intelligence operation by the Imperial Japanese Army during World War II. (Wikipedia)
While Kim Il-sung was away from North Korea for about one and a half years to make investigation in USSR,

Kim's wife gave birth to a child, Kim Jong-il, between her and Hatanaka

.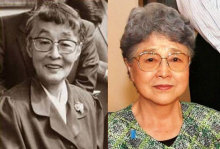 On the other hand, Yoshiko of the Nashimoto family, a branch of the imperial family, became the consort of Crown Prince Umin of Korea, the heir of the Rhee dynasty.
Her daughter is Mrs. Sakie Yokota, the mother of Megumi Yokota.
The two right photos are Yoshiko Nashimoto and Sakie Yokota.
Kim Jong-il made Megumi Yokota, descended from Korean Royal family and Japanese Imperial family, a wife to assure legitimacy as Joseon dynasty.
Kim Jong-un is the son of Megumi Yokota.
Now,

Megumi Yokota is Empress of North Korea.
As for the right to collective self-defense, Japanese, let's know the truth, understand it and think about how to associate with the U.S.
Some countries have got into a mess because they have had the right to collective self-defense: the countries are forced to take part in a war and have their people take their life.
Let's know true information, depend on ourselves and protect our country at all costs.
Mr. Ichiro Iiyama publishes a book about such thing.
At any rate, Yoshiko Nasihmoto resembles Sachie Yokota very much.
Judging from fragmented information I have gained, I have thought that Sachie Yokota is doing right.
Incidentally, it is said that

Mr. and Mrs. Yokota

met Megumi Yokota in Ulan Bator and

the personnel of Japan's Foreign Ministry and Japan's Red Cross Society joined them.
Incidentally, Yoshiko is called "Mother of Korea" because she reportedly made efforts to improve the welfare in Korea in her later years, and she was given a quasi-state funeral as consort of crown princess).
I wonder if South Korea' resistance shows the current situation where it will be integrated into North Korea whose leader is descended from Japan.