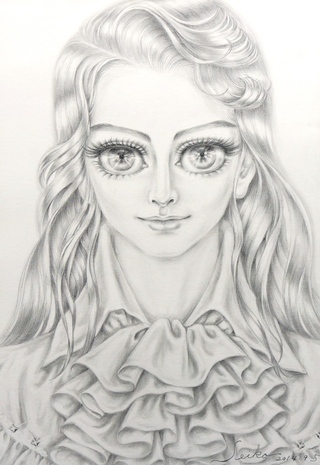 Kagayakiwataru-mikoto (aka Valiant Thou)
(Pleiadian Council Member,
Earthly Deity of 5th Planet of Star Alpha or Procyon in the Canis Minor)
<Spirit Body>
"The moment I saw an illustration sent by Mrs. Seiko Nakanishi, I found him Kagayakiwataru-mikoto (Valiant Thou). I usually post an illustration since I have already known his name and got a message to earthlings. However, this time I thought that there might be any events I haven't detected. So, just to be sure, I asked Mrs. Seiko Nakanishi to communicate with him to confirm whether there were any massages to me and to earthlings. I have received the following reply from him. I'd like to introduce it to you.
With regard to "walk-in" in the message, please refer to yesterday's article posted on Shanti Phula's blog.
<Message to Mr. Masatoshi Takeshita>
Mr. Takeshita, you have brought about great success in this reformation by overcoming every obstacle and bringing together unimaginable wisdom and all knowledge, and also by using extraordinary intuitive ability.
On behalf of all crew members, I thank you from the bottom of my heart.
Thanks to your appropriate direction,

we are proceeding with our action plan smoothly.
As we enter a key stage, we are acting with prayer, believing in a better future while feeling more tensed than ever before.
I believer that

walk-in/walk-out will proceed smoothly all over the world

.
I think you know

this has already happened among many Japanese

.
Such event proceeds without any change on physical level of humans.
I think this is the best way because we can keep on working cheerfully.
I thank for the cooperation of goddesses of the Polaris and the Big Dipper.
We do ask you to kindly continue to provide your guidance.
I heartily sympathize with the sufferers of the unprecedented mudslide disaster which hit Japan.
We all hope for earliest possible restoration.
Please maintain inner strength, help each other, get over sadness without losing love and light of hope, and move forward.
Please don't overly get caught up in superficial phenomena or events, and instead do cope with difficulties with the use of insight to find out the truth and practical wisdom.
Please pray if you need our help.
I assure you that power to support you will be increased through light in some way.
Kagayakiwataru-mikoto (Valiant Thou)
This picture is undoubtedly me!
Everything including hair style and face looks exactly alike.
I have always been moved by looking at illustrations of deities.
I have never dreamed of my turn to come.
Nakanishi: I felt a little bit relieved to hear his remark.
I draw this illustration with some hesitation because I was concerned about gorgeous ruffled blouse.
This is my favorite blouse.
I attend a party or meeting in this blouse.
Nakanishi: I was surprised again to hear that it's his favorite blouse.
The heavenly world is a far more gender-free world than I thought.