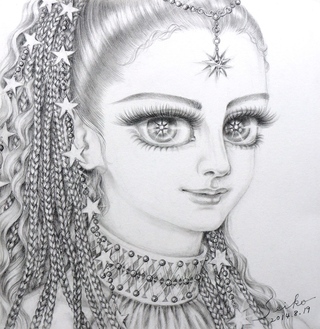 Illustration of Harukanahoshino-himemiko
(Star Alkaid in the Big Dipper, 12 years of age)
<Linga Sarira>
"I have got the name of himemiko (goddess) of Star Alkaid in the Big Dipper and received her message to earthlings through Mrs. Seiko Nakanishi.

I'd like to share the information with you.
Masatoshi Takeshita
August 23, 2014"
I'm sure that you must be saddened by the news of localized catastrophic disasters.
We all get choked up to see recent mudslides triggered by heavy rain in Hiroshima, Japan.
I'm sure that you have suffered heartache on natural disasters occurring so often on a global scale.
Given the hardships disaster victims have experienced, we cannot view them with indifferent eyes as other peoples' problem, though we have to pass through this process.
We all continue to pray for you to overcome the physical and mental damage inflicted on you and regain your presence of mind as soon as possible.
Please help each other and pass through this era of hardships to aim for the future that we want.to come.

Please be patient for a while.

Never lose hope and please stick it out to the end
When you have a difficult time, please call for us.
We assure you that your voices and prayers will reach us.
When you feel depressed and feel almost hopeless, never fail to remember us and pray.
We assure you that courage and power will flow into your heart.
We always watch over you.
*Astrology (observing the stars)
*Listening to music (classical music, popular music, Latin American music)
I hear that you drew it without looking at me.
It's so well drawn that I thought you must personally have looked at me.
In particular, the hair accessory is one of my favorite accessories.

I also love meticulous hairstyle of braid like this."
Nakanishi: Drawing this illustration, I wondered if you did meticulously braid your hair by yourself.
"No, I can't do it by myself.

(Laughter)
I usually ask a few goddesses to have my hair braided, but this time I asked *all to do so for this illustration."
Nakanishi: It is difficult to braid up again, isn't it?

(Laughter)
"Yes, it is!

Once I braid my hair, I try to keep it for a minimum of 10 days. (Laughter)"
Nakanishi: Thank you for nice talking to you.
*All – It means all six goddesses of the Big Dipper.
The above is a message from the goddess.