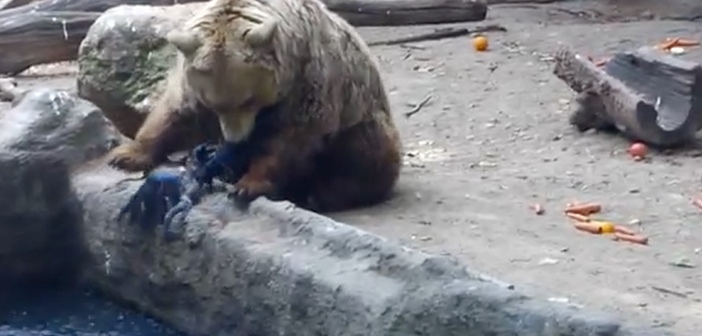 Bear Rescues Crow Stuck in Water in Hungary Zoo (Video)
Although apparently the bear has the intention to rescue the crow, he appears to handle the crow a little bit roughly.

At any rate, he is so cool that after rescuing the crow, he pretends to be indifferent to the bird as if saying "I had no intention to eat you."
Bear Rescues Crow Stuck in Water in Hungary Zoo (Video)
People who visited a Budapest zoo in Hungary witnessed an unusual drama in the bear's enclosure as follows:
One crow fell into the pond covered with floating grass and couldn't reach the ground.

Looking on the crow, a bear tried to scoop it by his front paw.

After trying several times, he understood he couldn't make it.

Now he carefully held the cow between his teeth and managed to pull it out.
Subsequently, the bear left there and returned to the feeding area where there were apples and carrots.

He kept eating them in silence without a glance at the crowd, while the bird froze with fear.
The crow acted strangely.

In the last scene of the video, we can see the crow take a rest in the enclosure of the bear that was gentle enough to save the bird, probably because the cow felt relieved to know he was unlikely to be eaten.