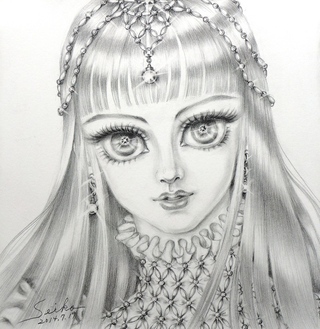 Illustration of Sayakekihoshinoshizukuno-himemiko
(Star Alioth in the Big Dipper, 11 years of age)
<Linga Saria>
<Message to People of Earth>
I watch Earth beautifully shining every day.
People who are oppressed …
People suffering from hunger …
People who have lost families and houses because they got involved in a war …
Incidents occurring on beautifully shining Earth have clouded my mind.
However, love is sure to win!
Please don't give in to sadness!
Because love can overcome sadness.
When you suffer, please remember beautiful Earth!
Please visualize flowers, trees, birds, animals and all forms of beautiful nature.
I assure you that Earth will become one as you imagine!
We, as one, have continued to pray for peace and security of Earth.
Sayakekihoshinoshizuku-himemiko"
<Subjects she major in celestial school>
*Medical care – pain treatment (treatment of the pain for the entire body by using special light>
It is exactly how I look!
I heard that you draw an illustration without looking at anything.
I'm surprised to look at this illustration because it is so much a look-alike for me!
I wear exactly the same head accessory, ear rings and beaded dress as described in the illustration.
I'm so excited that I can't sleep today.
(I was surprised at himemiko's words!)