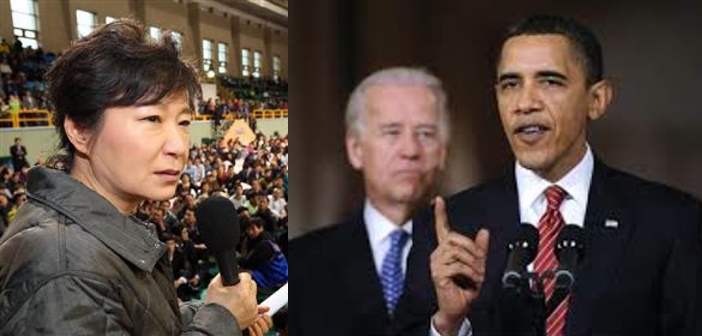 The Sewol incident is likely to be caused by the Obama administration.
In an article picked up on April 22 by the editor of Shanti Pula website, I showed that the Sewol incident was likely to be "ritual murder."

Judging from this article and yesterday post on Fulford information, I suppose that the incident was likely to be caused by the Obama administration.

Taking into consideration this possibility, the following four articles I picked up today are linked to one another.
The owner of the Sewol is a figure called as the founder of a cult religion, *"Kwonpa
"
and the teaching of the group is reportedly "whatever crime a believer commit, it never constitutes a crime.

As seen in the second article, Pope Francis gave such an unusual remark.

This is because he had known that the incident was ritual murder, I suppose.

Since she had naturally known about it, President Park Geun-hye made a slip of the tongue; she said "just like 'murder'".

This remark carried such connotation.
She knows that if she tells the truth, she would probably be killed like her father.

This is why she looked scared to respond to this incident on the TV screen.

It can be said that the incident is a Korean version of the AUM Shinrikyo incident.

It appears most likely that the incident will be settled as terrorism by this Korean cult group.

Like the sarin gas incident by AUM Shinrikyo, this incident is such an unusual incident that we cannot think of anything but behind-the-scenes manipulation of the CIA.
That aside, coverage of the Japanese media on this incident is awful.

If a reporter of the first article seriously thinks of the incident this way, it shows how inferior Japanese journalism is.
(Translator's note) *Quonpa – phonetic spelling
"Just like murder" – President Park Geun-hye makes a slip of the tongue on the Sewol accident
It is often the case that a catastrophic incident becomes a "catastrophe" to a government.

One such example is just about to be in progress in Korea.

It is an accidental sinking of the passenger ship Sewol carrying 473 passengers.

Since the accident occurred on April 16, the government has given a belated response to it and changed announcements again and again.

Furthermore, they have been slow to engage in rescue operations.
President Park Geun-hye approval ratings have fallen in association with her response to the accident.

There is something that is bothering me about the president's remark, although I am not sure if she tried to win a come-from-behind victory.

She mentioned in the passing that the captain and many crew escaped the ship, paying no attention to the passengers the escape of whom from the ship they were supposed to spearhead, "just like murder."
There is a world of difference between the criticism against the crew of the media and ordinary people and the president's remark "just like murder."
If President Park Geun-hye had made this remark to stop a drop in her approval ratings, I think it is the very concept of populism.

Populists often use a trick to attack others in words readily acceptable to the public.
The president's remark of "murder" is not simply populism but in some situations it sounds like a remark that disregards fundamental human rights in modern society.

In modern society, one is considered innocent until proved guilty; presumption of innocence is the principle.

Her remark is infringement of human rights.
If the president had specified the target of attack to avert the backlash against her, it is the worst act as a politician.

If she had said so because she really though so, I doubt if she is eligible for the post of president.

I wonder if Japan is prepared to get along with such president like President Park Geun-hye.
Pope hopes for moral rebirth of South Korean people

Pope Francis (right) and Bishop You Heung-sik (left)
Bishop Lazzaro You Henung-sik of the Daejeon Diocese met Pope Francis at the Vatican on April 24 (local time).

Bishop You Henung-sik expressed his appreciation to the pope who had given prayer vigil for the victims of the passenger ship Sewol.
The Pope said: "I express my condolences for all Korean people.

I'm preparing for visiting South Korea to meet the young and I express my deepest condolences over the loss of so many young lives."

He also

stressed that he hoped the South Korean people to take the Sewol tragedy as an occasion for moral and spiritual rebirth

."
[2channel responses][Sewol Sinking Tragedy] Is this the reason why the Pope got furious?

A TV show "Morning Bird" reveals that there were teachings of a cult behind the sinking incident: "whatever crime a believer commits, it never constitutes a crime" and "you don't need to repent." – They are in the news as national character of Koreans.
240: nameless station Apr.28, 2014 (Mon.) 08:15:51.50 ID:ZhVng28Z.net
(´・ω・`)
Former aide to the owner of sunken cruise ship –teaching of cult and its brainwashing
By Chairman of Korean Christianity Heresy Consultation Association
"Whatever crime you commit, it never constitutes a crime"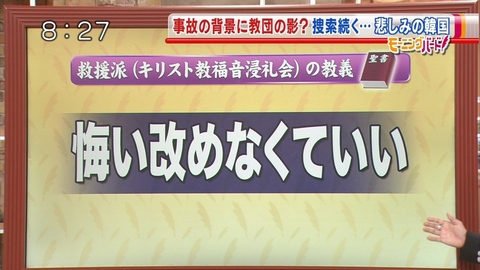 Shadow of cult religion behind accident?
Continued searching
– Sorrow-stricken South Koreas
Teaching of the cult -
"You don't need to repent.
165: nameless station Apr.28, 2014 (Mon.) 08:12:24.65 ID:oB20qCPI.net
172: nameless station Apr.28, 2014 (Mon.) 08:12:38.21 ID:7iPAmLqH.net
194: nameless station Apr.28, 2014 (Mon.) 08:13:26.00 ID:Tw06FuD5.net
Is this something like Unification Church or Soka Gakkai?
279: nameless station Apr.28, 2014 (Mon.) 08:17:45.57 ID:oSsNebXH.net
It is no surprise that the Pope gave South Koreans candid advice.
English translation of an excerpt from a Japanese article: Yahoo News – April 23, 2014 –
Former Chairman of Semo Group Yoo Byung-eun
The prosecution has revealed the full truth of injustice of the family of

former Chairman of Semo Group Yoo Byung-eun, 73

, who is believed to be an

actual owner of the Sewol.
The prosecution

raided

not only Semo Group affiliated companies including the Cheonghaejin Marine Co.

but also the Evangelical Baptist Church (also known as Kwonpa), of which Byung-eun is said to be the central figure

; it is unusual to raid religious groups.
In the morning on April 23, the Special Investigation Team of Incheon District Prosecutors Office in charge of investigating the operator of the Sewol, searched Byung-eun' home for confiscation and dispatched investigators to an Kwonpa-linked religious group in Younsan District.
It is also reported that

representatives of Semo Group-affiliates and most of the crew of the Sewol

, including Capt. Lee Joon-seok are

Kwonpa followers

.
It appears that the prosecution began investigating the Kwonpa-linked religious facilities because they concluded that the religious group not only had its followers occupy a great part of Semo Group executives but exercised an influence on the whole management of the group.

They are going to thoroughly uncover virtually every suspicion that is seen in company investigation such as embezzlement, breach of trust, tax evasion, window-dressing accounts and concealment of assets.
The home of Byung-eun' family in Seoul was also intensively searched.

It has been revealed that

former chairman's family and Semo Group executives have formed "Semo Town" in the exclusive residential area across*Yomugokton for communal life.
(Translator's note) * Yomugokton - phonetic spelling
Since the former chairman has a certain specific characteristic that he places a high value on the management of Semo Group and religion as practically a "community" without separating from each other and also enjoys undercover action, it can be predicted that many clues about mismanagement are hidden at home.