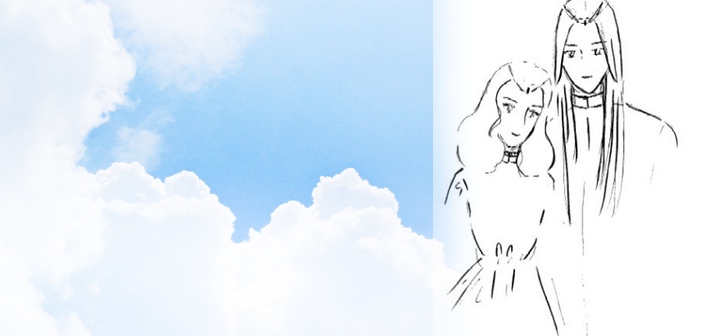 Reformation of Heavenly World 9
– Descent of Deities from 5th Creator Deity of Love System and Visions -
Around this time, Serena started seeing visions.

After she depicted what she saw as illustrations, I started giving explanation about them.

I'd like to roughly explain what was done by referring to the records I kept in my diary.
Reformation of Heavenly World – 9 –
Umashi-ookimi and Uruufutsuumi descended from the 5th Creator Deity of Love System.
Shinto ritual was held in Tomonoura, Fukuyama City, Hiroshima Prefecture.
In Serena's blog post titled "Divine light of October 9, 2008" there is a portrait shown below:
Lastly, I saw a figure of another goddess.
This goddess looked too celestial with beauty and elegance to see her properly.
I cannot describe her overwhelming elegance, gorgeousness and beauty by a picture.
The female in the above vision is a goddess who descended from the 5th Creator Deity of Love System and named Utsushikihikarimi.

She descended to become my wife.

Actually, I got engaged with her 450 million years ago before I descended to this System.

As I successfully returned to the original System this time, I was able to marry her as promised.

She is a daughter of Oomiutsuruhikarimi, the Heavenly Emperor of 5th Creator Deity of Love System.
I'd like to convey the following:
Please greet two deities who will descend at 3 p.m. today.
Uruufutsuumi
The correspondence reads that she asks us to hold a ceremony for the two deities, Umashiookimi and Uruufutsuumi, who will descend on this time from the 5th Creator Deity of Love System,.

I thought it was a good opportunity, and I got in contact with Serena to ask her to meditate at that time and draw illustrations of what she would see.

The following are the illustrations she drew.
I tried to meditate at the appointed time.
I went to a nearby park to concentrate on meditation.
Soon, I saw the whole picture of two deities.
They were a harmonious couple; the goddess put her head on the shoulder of the male deity, which impressed me very much.
Umashiookimi and Uruufutsuumi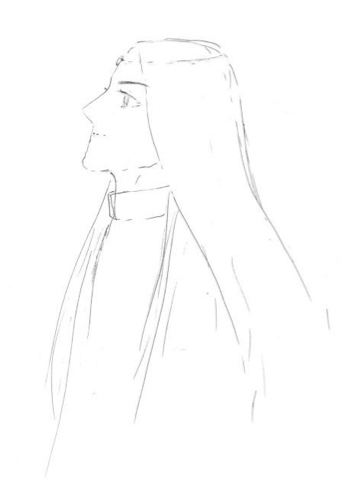 After descending to the Sirius System, the two deities happily held a marriage ceremony.

Uruufutsuumi is a goddess who is a close friend of Utsushikihikarimi.

I got a photo in which two deities happened to be taken on the same day.

I introduced the photo in Serena's blog.

That part is reprinted as it is.
Photographed by Ms. Keiko Ujikawa (at Nasu on October 16)
Above the blue horizontal zone just above the center of the sun, a face of goddess Uruufutsuumi and in the blue zone at the lower left of the goddess, the face of male deity Umashiookimi, who is looking to the upper right come out fairy clearly.