image: the first sunrise of 2014 in Fukutomi-cho
Earth To Enter Age of Light with Awakening of Humanity and
Ascension by New Year's Light
- Message from SaLuSa -
Although I have already explained in the previous comment, I'd like to give an explanation again just to be sure.

The vibrations of Earth currently is 4-4-4-4 and with the start of the new year (Japan time), it will rise to 7-7-7-7.

Please direct your attention to vibrational changes at midnight tomorrow.

Subsequently, Light of Empress Elizabeth of Austria will be showered for one hour from noon on January 1, 2014.

This light will awaken approximately 6.1 million people of Earth at 1:00 p.m. and Earth will enter a new Age of Light.

This is so-called Ascension which has been talked about through information by channeling sources.

It means that approximately 6.1 million people of Earth is accepted into the 4th dimension on the level of consciousness.

Specifically speaking, their evolutional stage will rise from 0.9 to 1.0 during this one hour.

However, people who will not be able to receive this Light won't feel any changes at all as before.
As a matter of fact, light from the higher dimensions have been showered dozens of times since 2007 when the reformation of heavenly world started so as to remove negative energy from Earth and avoid any phenomenon of spirit possession.

Places called as sacred places on Earth, which actually had been covered with vibration of Darkness, have been purified by such Light to change them into sacred places worthy of the names.

Shrines in Japan are representative of such places.

Although such massive changes on a global scale have been promoted, most people have not recognized such changes at all.

Therefore, I am afraid that most people of Earth will not recognize Light of Empress Elizabeth or Ascension at 1:00 p.m. which will subsequently follow.
However, with obvious changes which will occur later, many people will understand everything what I say is right.

I'll let you know later.
Excerpt from a Japanese article: GFL Service – December 27, 2013 –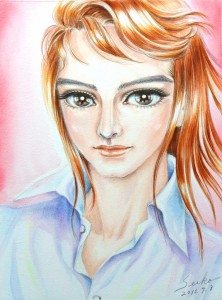 Illustrated by Mrs. Seiko Nakanishi
Here you are
at the end of yet another year that has been momentous
in many ways. Time has continued to speed up, and
a clear division can be seen to be taking place between the old and new.
The dark Ones are not progressing as they would have wished, after feeling that they were on the verge of taking control of the world. They reckoned without the increasing amount of Light that has been grounded upon Earth.

.
----- t
he Light is now the dominant force upon Earth
. The apparent turmoil is but a sign of it restricting the ability of the dark Ones, to continue their onward march to world control. ----- The cycle has run its course and
a new one has commenced that will bring complete peace and happiness to all souls. There is no longer a place for the dark Ones
to wield their power over the Human Race.
-----. Live in the Light, and you can live your life in a way that helps lift others up with you. The coming New Year will herald many changes that will send out a strong signal that the Light is bringing the New Age into being.
2014 will be the crossroads that allows rapid progress to be made, and signal the true commencement of the Age of Light
. ----------
----- It will happen by stages and
first you will gain full consciousness
. Of necessity you have lived out many lives in the lower vibrations with a limited consciousness. -----
As you become more at One with the Light, so you will become more awakened to the truth of your real selves
. You are not your body and it only serves your needs whilst on Earth. -----
Dear Ones throw off any feelings of tiredness or doubt, as the vibrations are increasing and you are being rejuvenated. Lift up out of doubt or disbelief and look straight ahead and walk in the Light. Leave your worries behind you and be assured that
everything is in perfect order
. ----- Think big and positive as you have done the hard work to have reached this point in your evolution. -----
I am SaLuSa come again to reassure you that all is well and we are with you all of the way. Our Love and Blessings go with you.