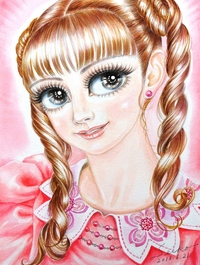 Illustration of Harukekihikaritodokumiya-himemiko-sama
Posted on our blog on June 24, 2013
Message from Harukekihikaritodokumiya-himemiko-sama (in response to many comments from readers)
Thanks you for sending us many comments to Harukekihikaritodokumiya-himemiko-sama.
We have received a message from her through Mrs. Seiko Nakanishi on June 25, 2013.
Dear, all Shanti Phula blog readers.
Thank you very much for your flattering statements.
I always see a series of illustrations.
I got nervous and felt uneasy about my turn to come.
Seeing an illustration, I am very happy because I had a reputation for being dark and damp.
I think this illustration resembles me very much.
I love the color of pink and to dress up.
The thought of your seeing me as a girl illustrated here makes me very happy.
I will pray for the peace of Earth together with other planets.
Although difficult to see me, please don't forget me.
Harukekihikaritodokumiya-himemiko-sama
This is a message from Mrs. Seiko Nakanishi:
Her name is too long for me to call to her.
I always confuse her name with the names of other planets' himemiko-sama.

So I asked her to permit me to call her "May-chan."
She answered: "Yes, call me by that name.

I love the name May-chan very much."
Looking up at the sky, call the name "May-chan" visualizing a girl dressed in pink.

I am sure your voice will reach her.