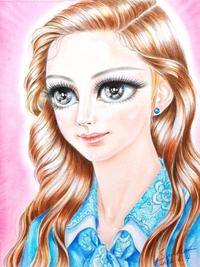 Illustration of Takakusobiyurumiya-himemiko-sama
(12th Planet, 10 years of age)
posted on our blog on June 5, 2013
Message from Takakusobiyurumiya-himemiko-sama (in response to many comments from readers)
Thank you for sending us many comments to Takakusobiyurumiya-himemiko-sama.
We have received a message from her through Mrs. Seiko Nakanishi on June 6, 2013.
June 6, 2013 at 1:23 p.m.
Dear, all Shanti Phula blog readers.
I enjoy reading your comments
I have been thought as non-existence.
I'd like to express my gratitude for the generosity of Mr. Takeshita who has introduced me as a planet in the solar system.
Regrettably, however, you cannot see me.
Nakanishi:

(Is it because you are too far away and small to be discovered?)
I am invisible to the human eye.
However, I am very moved to learn that my existence has been known to you and you have talked to me, feeling I am close to you; I have never experienced before.
I am filled with joy to know that you have finally found out about me.
It has become my daily routines to enjoy looking at Earth.
It is because Earth has been shining more and more brightly.
I'd like to continue praying with you for the sake of bringing peace to Earth.
Let's keep on trying with patience and courage!
Takakusobiyurumiya-himemiko