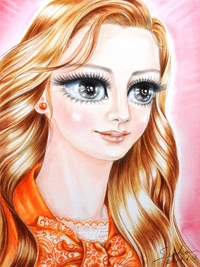 Illustration of Takakisorakagayakumiya-himemiko-sama
(11th Planet, 10 years of age)
Posted on our blog June 13, 2013

Message from Takakisorakagayakumiya-himemiko-sama
(in response to many comments from readers)
Thank you for sending us many comments to Takakisorakagayakumiya-himemiko-sama.
We have received a message from her through Mrs. Seiko Nakanishi on June 14, 2013.
Dear, all Shanti Phula blog readers.
I am Takakisorakagayakumiya-himemiko.
Your kind comments have warmed my heart and filled my heart with joy.
Yesterday was a happy day when my name and figure was disclosed to all people of Earth for the first time.
I am reading your warm and distinctive comments many times.
We are like sisters in the same solar system.
I am invisible to the human eye, but we share our feelings with each other.
I will respond to you as best I can.
I pray that all of you, people of Earth, will be more peaceful and happier.
I'm looking forward to working with you.
(Note) About 12 Planets:


There are 12 planets in the solar system.

As there is an unknown planet Valcan between Earth and Mercury.

Therefore, Pluto is the 10 th planet, followed by 11 th planet and 12 th planet.