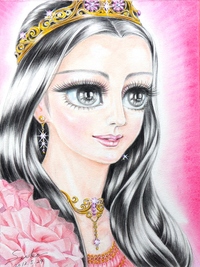 Illustration of Takakiyumemishimiya-himemiko-sama
(Neptune, 10 years of age)
posted on our blog on May 25, 2013
Message from Takakiyumemishimiya-himemiko-sama
(in response to many comments from readers)
Thank you for sending us many comments to
Takakiyumemishimiya-himemiko-sama.
We have received a message from her through Mrs. Seiko Nakanishi on May 26, 2013.
May 26, 2013 at 9:22 a.m.
Dear, All Shanti Phula blog readers.
Thank you very much for sending me a lot of wonderful comments.
As I have a good view of Earth, I have been watching Earth very carefully.
Recently Earth has been changing very beautifully.
We feel happy to see the changes.
We hope Earth will be more and more beautiful.
We will pray for your happiness.
Repeatedly reading your comments, I hope peace will be achieved on Earth as soon as possible.
Takakiyumemishimiya-himemiko