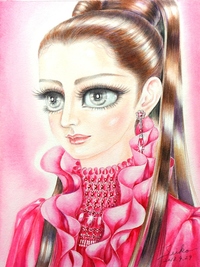 Hikari-kiwamuru-himemiko-sama (Universe, 12 years of age)
<Linga Sarira>
Illustrated by Mrs. Seiko Nakanishi
Comment by Mr. Masatoshi Takeshita
and Message from Hikari-kiwamuru-himemiko-sama
"This is our universe, Himemiko-sama (linga sarira).

She is still a 12-year-old girl, but her elegance and dignity is well described by Mrs. Seiko Nakanishi.

Although I had already talked in a video lecture on religion that our universe has a figure as a 12-year-old girl, the video has not streamed.

Therefore, Mrs. Nakanishi cannot know about it.

In fact, she seems to have believed Himekiko-sama a planet.

While talking about the universe looking like a girl in a video lecture, I thought it was not before long that Mrs. Nakanishi drew a picture of her.

So upon seeing this picture, I found her the universe.

As I had no idea of her name, however, I asked Mrs. Nananishi to get in contact with her and then got a message from her through Mrs. Nakanishi.
I'd like to introduce to you a message from Hikari-kiwamuru-himemiko-sama shown below.
"Message from Hikari-kiwamuru-himemiko-sama to everybody on Earth"
"All people living on Earth!
You are passing through a difficult time now.
I wish you a bright future.
The universe is always on the side of pure-hearted people.
The universe is aggregation of love.
Please live in keeping with cosmic love, and a peaceful world will surely be created!
I have kept sending light to Earth from the universe.
I hope as many people as possible will receive the light.
Your happiness is my happiness.
The universe will live seeking for love.
I hope your love will be with me.
Best wishes to all of you!"
Mrs. Nakanishi seems to have got a message from her about the illustration.

I'd like to introduce it, too.
"I saw your illustration.
Thank you for depicting me very well.
There has been no one who correctly understands me.
But your illustration depicts me very well.
It is true that Mrs. Nakanishi's illustration is well drawn, but I feel that drawn eyes and eyebrows are a little bit different from those of Himemiko-sama.

The illustration would have been much better if Mrs. Nakanishi had used a little ingenuity in drawing her eyes and eyebrows to convey the atmosphere of a very intelligent, beautiful girl.
However, as Himemiko-sama says, this picture, which depicts the true figure of the universe, has been drawn for the first time in human history and it is truly valuable.

I hope as many people as possible will know about it.

The moment you see this picture, you will understand that conventional religions are full of fictions."