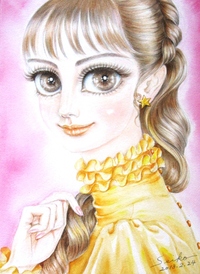 Hanatachibananohimemiko-sama, aka Saotome
(Earth, 10 years of age)
<Linga Sarira>
Illustrated by Mrs. Seiko Nakanishi
This is the Linga Sarira* of the Earth.

Many people think of the Earth as Mother Earth but actually the Earth is a ten-year-old beautiful girl.

I have been waiting in the hope that Mrs. Nakanishi will draw an illustration of one of three sisters: the Sun, the Moon and the Earth.

My wish has come true.

The three sisters are all ten years old.

As I don't know the name of the Earth, I asked Mrs. Nakanishi to get in contact with her to ask about her name.
According to Mrs. Nakanishi, her name is "Saotome"-sama and she says: "I like orange.

I always wear orange-colored dress.

Now I'm wearing star-shaped earrings."
You may wonder why I know the three sisters very well.

I know by intuition.

To tell the truth, all of them came together to see me.

Of course, I was not able to see them.

Their cuteness, however, made my heart pound.

Then, I sensed that they exist and they appear like beautiful girls, though they are invisible.
Religion has exclusively taught us falsehood and has never taught us anything about the real picture of spiritual world.

I am very happy to have shown you the Earth's true self.

I owe it all to Mrs. Seiko Nakanishi gifted with rare ability.

Knowing her beautiful appearance, please live right to live up to the expectations of the Earth.

It is our wish as well as the wish of the universe.
(Note)
*
Linga Sarira
: "Personality" in theosophy