I think that in a few days Serena-san will post the visions she had on her blog. A nine-year-old boy in this photo appears in her vision.
Today, on the last day of summer vacation, as usual sidewalks in front of the prime minister's official residence and the Diet Building were filled with citizens who share a sense of crisis over nuclear power plants.

They got together because the Noda administration and the largest opposition party LDP use every possible means to pass through the Diet the draft for personnel of Nuclear Regulatory Commission though the Diet has been immobile due to a censure motion against the prime minister.
Many participants desperately try to "stop operating nuclear power plants by all means" for children.
It is a nine-year-old boy in the third grade of an elementary school in Mitaka City that gives a dignified speech, which outshines that of an adult, on the stage in front of the Diet Building.
"Prime Minister Noda and the government don't know how much many people suffer from radiation.

This kind of thing is unthinkable.

It is a crime to dump nuclear garbage in rich nature.

Living creatures become stars after death.

It is a crime to kill them before becoming stars.

Everybody, please promise! We should not stop the protest movement until all nuclear power plants disappear.

"
The boy just talked very naturally the workings of all living creatures.

However, I felt deeply shamed as if I were a hen given advice by a chicken.

I wonder what the people of Nuclear Power Village who have lost human hearts would think of if they listen to this speech.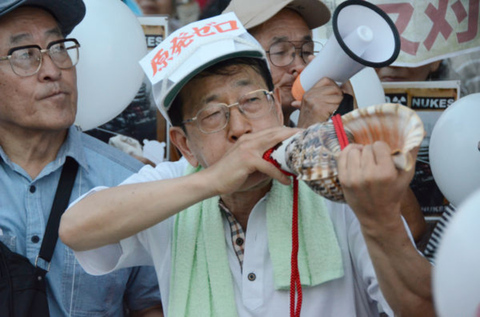 The conch shell horn blower is a man living in Ota Ward, Tokyo, who is a company executive in his sixties. He says with his eyes raised, "This is the battle of the public against the government which has restarted nuclear power plants." He says that he has three grandchildren and has started taking lessons of the conch shell horn to challenge the government to a battle. He powerfully says "I'll do everything to stop operating nuclear power plants for our grandchildren!"
"We should not leave behind dangerous nuclear power plants to our children and grandchildren." I feel that Friday gatherings have returned to the original intention now. Slogans "Protect children" have been heard remarkably a lot.
A man in his fifties, a teacher, rushed to the gathering by airplane from Wakayama. "When I was a child, I asked adults 'Why didn't you try to stop the war?' I have come here because I don't want to be asked by children "Why were you unable to stop operating nuclear power plants?'" he says.
(Commented by Ryusaku Tanaka and Kyo Suwa)