MSG on August 23, 2012 at 6 p.m. Japan Standard Time (JST).
"It is our great pleasure to inform you that Tanabata-hime-kotae-sama will shower us Light of Grace for one hour from 7 p.m. (JST) tomorrow on August 24, 2012."
/* For the local time of your area, please visit : http://bit.ly/PE83vF */
As a rule, all of us will be able to receive this light. However, this light will not reach those who have committed many follies and have been excluded from our Sirius System.
Furthermore, we are sure to have more blessings by repeating this divine name for one hour.
All the people who can take this message would be advised to repeat the name of "Tanabata-hime-kotae-sama" for one hour from 7 p.m. to 8 p.m. (JST) on August 24, 2012.
You may repeat Her name either aloud or in the silence of your heart. By repeating the Divine name, those who have already achieved the absolute passing level will step up to one higher level in their evolutionary stage of consciousness.
Please pass on this message to as many people as possible.
Masatoshi Takeshita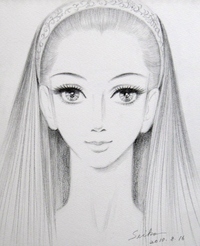 Tanabata-hime-kotae-sama
Illustrated by Mrs. Seiko Nakanishi