The first step to independence is to discard feelings of dependence on somebody.
We will create the future world.
Masatoshi Takeshita
English translation of a Japanese article:
Ryusaku Tanaka Journal – August 5, 2012 –
"Opposition to Deployment of Osprey"
Rally & Demonstration in Tokyo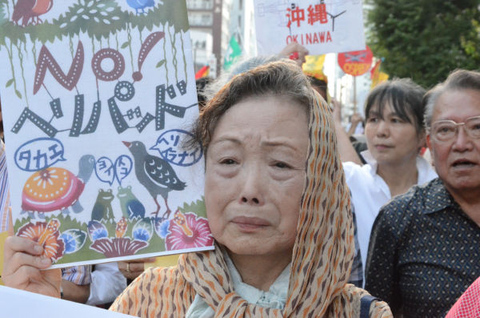 A woman from Okinawa, who said she had her ancestral land offered for the U.S. military base, attended a protest march with tears running down her face.
- On 5th at Chiyoda Ward Photo by Suwa -
A rally of residents of Okinawa Prefecture to protest against deployment of the Osprey, U.S. marine transport aircraft which has a vertical takeoff and landing capacity, was scheduled to be held in Okinawa Prefecture on 5th. However, the rally was postponed by Typhoon No. 11. Tanana and Suwa were supposed to cover a story about Okinawa filled with anger but were forced to give it up.
However, a rally & demonstration, which had also been planned to be held in Okinawa, was held in Tokyo as scheduled.
We fully understand that deployment of the Osprey is not simply a regional issue limited to Okinawa and Iwakuni because test flights of the dangerous flying object whose accidents have repeatedly occurred will be made along eight or nine routes over the Japanese archipelago.
I hear that Defense Minister Bin Morimoto, who took the trouble to visit the U.S. to take a test flight on Osprey, said proudly "It gave me a comfortable, stable flight." The more strongly government officials emphasize "safety" of something, the more dangerous it is. The nuclear accident in Fukushima is undeniable proof of it.
Mr. Hiroshi Ashitomi, a joint representative of Anti-heliport Council, sent a telephone message to the meeting place at Kanda, Tokyo from Okinawa. "Defense Minister Morimoto should keep boarding the Osprey for one hundred thousand hours…….. We cannot trust the DPJ. Let's wage a campaign for building a new Japanese society. We are going to create the future of Okinawa."
Residents of prefectures where nuclear power plants are located and Okinawa are victims of the government which feels no shame about forcing a lot of burden on the weak.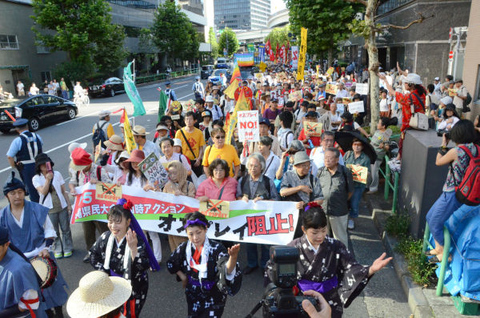 Dancers dancing Eisa, an Okinawa bon festival dance, led a protest march, followed by long lines of protesters.
(Comment by Ryusaku Tanaka & Kyo Suwa)